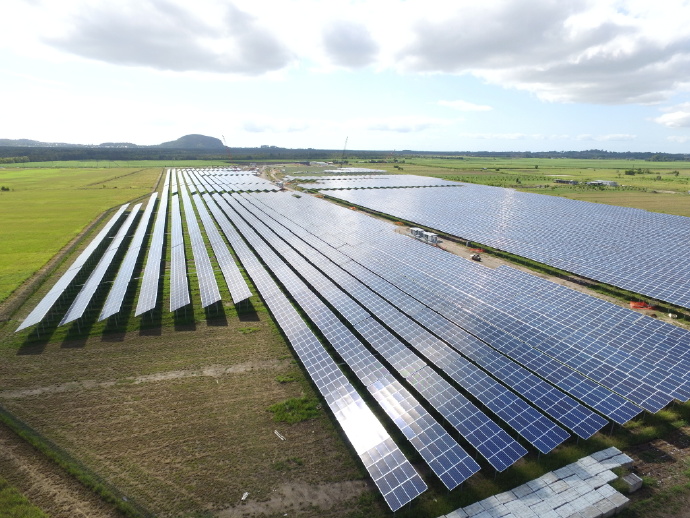 Trina Solar's Duomax PEG14 315W glass-glass modules have been selected for Australia's 15MW Sunshine Coast solar farm.
The farm is the country's fifth largest installed solar plant to date.
57,000 Duomax modules will be used to mitigate against the extreme weather conditions found in Valdora – where the plant is to be built – including harsh winds and cyclones. Duomax features robust chemical properties that enable it to withstand said extreme weather conditions. The frameless modules are comprised of double glass that enables improved product reliability and performance, according to Trina Solar.
Its warranty also fulfils the 30-year design life planned for the solar farm. Trina also claims that the modules are also designed to improve project Levelised Cost of Electricity (LCOE) driven by its lower degradation rate, and enables Balance of System (BoS) savings at system level.
The farm will enable the Sunshine Coast Council to become Australia's first local government to offset 100% of its electricity consumption across all its facilities from clean energy. Solely owned by the council, it is located on 24 hectares in Valdora. It is expected to save the organisation up to US$22 million over its 30-year lifetime.
The Sunshine Coast solar farm will supply power to the local Council's administration buildings, aquatic centres, community and performance venues, as well as holiday parks, libraries, art galleries and sporting facilities.
Helena Li, president, Asia Pacific and Middle East, Trina Solar said: "It is our great pleasure to once again work with Downer to deliver a milestone for the Australian utility industry – the Sunshine Coast Solar Farm is one of the first projects to be delivered at the 1500V rating system. We are proud to have played a part in helping the region transition into a clean energy economy."
In related news, investment into Australia's renewable energy industry has been at an all-time high; last year saw investment in large-scale renewables five times greater than 2015 investment; with more than AU$4 billion (US$2.99 billion) committed that will add more than 2GW to the grid.