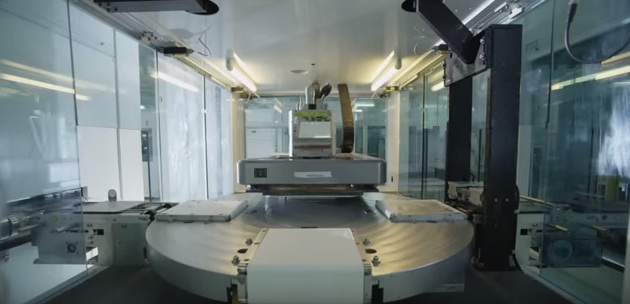 Updated: Leading 'Silicon Module Super League' (SMSL) member Trina Solar exceeded fourth quarter and full-year shipment guidance in 2015, reaffirming its number-one market leadership position.
Trina Solar reported full-year total solar module shipments of 5.74 GW, an increase of 56.8% from 3.66 GW in 2014 and revised upward guidance of 5.5GW to 5.6GW.
Total net revenues were US$3.0 billion, an increase of 32.8% from 2014.
The company exceeded fourth quarter shipment guidance of 1.5GW to 1.65GW to reach 1,776.3MW, consisting of 1,579.7MW of external shipments and 196.6MW of shipments it its own downstream PV power plant business.
As a result, net revenues were US$961.9 million, an increase of 21.4% from the third quarter of 2015 and 36.4% from the fourth quarter of 2014.
Jifan Gao, chairman and CEO of Trina Solar said: "2015 was in many ways a strong year for Trina Solar as we achieved record results on both a sequential and year-over-year basis in each quarter. During the year, we entered the Indian market and a number of other emerging markets, which helped to expand our global footprint from 43 to 63 countries. We also made progress on our global capacity expansion plans. Our partnered facilities in Vietnam and Malaysia, where we employ a relatively asset light model, helped to meet the growing demand for our products in overseas markets, and we expect our cell and module facility in Thailand to become operational in 2016. Our downstream business experienced more growth in China's highly competitive environment. All of these efforts have solidified our foundation and leave us well positioned for 2016."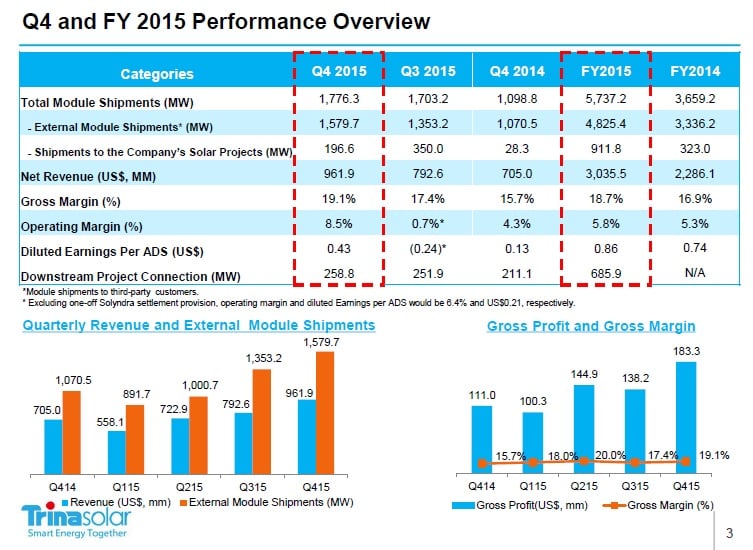 2016 guidance
Trina Solar said that it expected total PV module shipments of between 6.3GW and 6.55GW in 2016, which includes 450MW to 550MW shipped to its downstream projects, revenues of which would not be recognised.
The company expects to ship between 1.37GW to 1.45GW of PV modules in the first quarter of 2016, all of which will be shipped to third-party customers.
Fourth quarter results
Trina Solar reported net revenue in the fourth quarter of 2015 of US$961.9 million, a gross profit of US$183.3 million, an increase of 32.7% from the third quarter of 2015 and 65.1% from the fourth quarter of 2014. Gross margin was 19.1%, compared with 17.4% in the third quarter of 2015 and 15.7% in the fourth quarter of 2014. Operating income was US$81.3 million, compared with US$5.8 million in the third quarter of 2015 and US$30.5 million in the fourth quarter of 2014.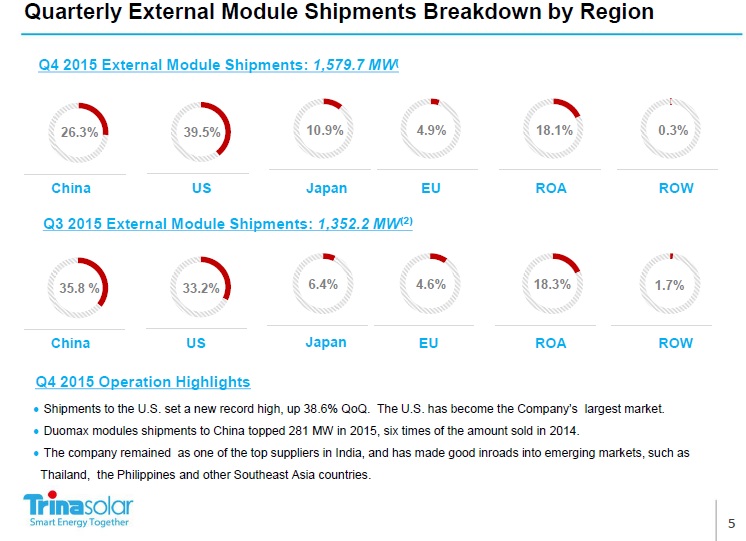 Full-year results
The company reported 2015 total revenue of US$3 billion, including downstream revenue, project sales and others of US$168.7 million, an increase of 32.8% from US$2.29 billion in 2014. Gross profit was US$566.6 million, an increase of 47.0% from US$385.6 million in 2014.
Full-year 2015 gross margin was 18.7%, compared with 16.9% in 2014. The increase was said to be due to a higher reduction in manufacturing costs compared with the general decline in module ASP, as well as increased sales of overseas downstream solar projects and EPC services, which produce higher margins than module sales.
Operating profit was US$177.0 million in 2015, compared with US$120.1 million in 2014. Operating margin was 5.8%, compared with 5.3% in 2014.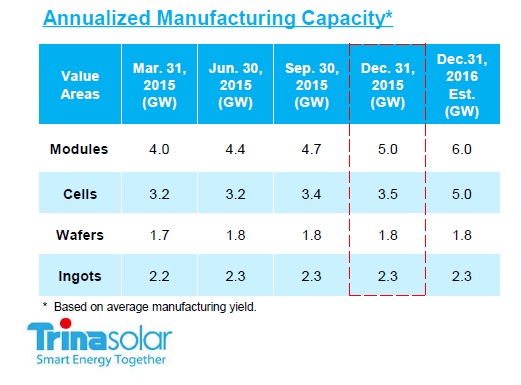 2016 manufacturing update
Trina Solar guided manufacturing nameplate capacity of ingots of 2.3GW by the end of 2016 and wafer capacity of 1.8GW. Solar cell capacity would be 5GW and module assembly capacity would reach 6GW at year-end.
Both ingot and wafer capacities will therefore remain unchanged from 2015, while solar cell capacity will increase 1.5GW in 2016 and module capacity by 1GW.
PV projects update
Trina Solar reported that in the fourth quarter of 2015, a total of 258.8MW PV power projects had been connected to the grid, including 132.5MW of utility projects and 126.3MW of DG projects in China.
In total, Trina Solar reported that it had connected a total of 685.9MW of PV power projects to the grid across the globe, of which, DG projects in China were 200.4MW, accounting for 29.2% in 2015.
The company had a total of 869.2MW downstream solar projects in commercial operation, including 847.0MW in China, 4.2 MW in the US, and 18.0MW in Europe at the end of 2015. The 847.0MW projects in China consisted of 645.5 MW of utility projects and 201.5MW of DG projects.
Trina Solar said that it expected to connect to the grid between 750MW and 850MW of downstream PV power projects across the world in 2016, including 10% to 15% of DG projects in China.