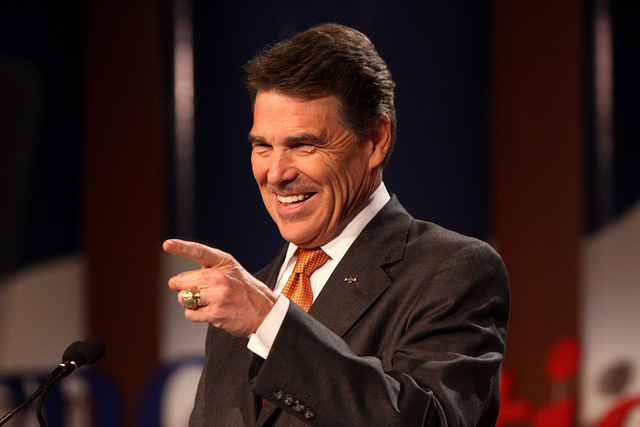 Rick Perry, the former governor of Texas, will be nominated by president-elect Donald Trump as Energy Secretary – despite Perry previously vowing to abolish that very Department.
Despite Texas being touted as a frontrunner for utility-scale solar growth in the US according to experts, the qualifications of the state's former governor for being the highest authority for energy policy in the country are yet to be identified. The former energy secretary Ernest Moniz, who served under Obama since May 2013, was a nuclear physicist.
What is apparent is Perry's nonchalance towards the Department as during a televised debate in 2011 he forgot the name of the agency whilst simultaneously declaring to abolish it. In addition, Perry, who served leader of the Lone Star State from 2000-2015, championed fossil fuels for the duration of his position.
Certain environmentalists frown upon Perry's approach to climate science as Perry has been known to deny the existence of anthropogenic climate change; much like Trump's pick for the head of the Transition EPA, Myron Ebell, and the president-elect himself who tweeted in 2012 that climate change was a Chinese "hoax".
"The science is not settled on [climate change]. The idea that we would put Americans' economy at jeopardy based on scientific theory that's not settled yet to me is just nonsense," Perry said during a 2011 presidential debate. "Just because you have a group of scientists who stood up and said here is the fact. Galileo got outvoted for a spell."
Despite being a prominent supporter of the Keystone XL Pipeline and other oil and natural gas initiatives, Perry has been shown to back renewables to some extent. In 2005, he approved legislation that increased Texas' renewable energy mandate.
Beyond renewables, the majority of the Department of Energy's agenda is attributed to the nation's nuclear arsenal. It has been speculated that Perry's election as energy secretary is the beginning of a move to a heavier focus on traditional energy sources such as oil and coal – in complete contrast to the Department under Obama.
In that respect, Perry is a perfect fit for the priorities of the incoming president, who recently reaffirmed his intentions to slash funding for clean energy research, and dismantle associated federal incentives.