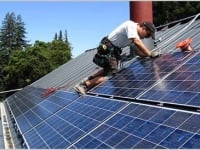 A majority of Massachusetts legislators has taken action to support legislation that would lift the cap on net metering in aid of the solar energy industry.
Yesterday, 100 members of the House of Representatives, accounting for two-thirds of the House, sent a letter to the House leadership and full legislature calling for the legislation to be passed quickly.
Massachusetts senators and representatives have been approaching a decision on how to modify the net metering scheme, which many solar projects rely on for economic viability. A current cap on net metering for large-scale projects has seen many solar projects stall.
Last November, an overwhelming majority in the Massachusetts House passed a bill that would raise the cap on net metering by just 2% as well as reducing the amount of money paid to solar energy producers from a retaill rate to a wholesale rate, despite many industry commentators claiming this would result in many solar energy projects continuing to stall under the caps.
Carine Dumit, from the Energy Freedom Coalition of America (EFCA), said: "Massachusetts historically has had a strong solar industry, thanks to a business friendly environment and policies that have enabled the industry to create over 15,000 local jobs, customer choice, new economic development, and clean energy. However, that progress is at risk as we face legislative uncertainty over the future of net metering and the industry's future in the state."
Dumit said the EFCA has been encouraged by the letter from the 100 members of the House that supports lifitng the net metering caps.
Net metering has been hotly contested across the US of late. For example, the Nevada Public Utility Commission's decision to amend rates for net metering at the end of last year left solar installers in the state in a precarious position with business all but grinding to a halt. Some high-profile players, including SolarCity and Sunrun, ceased operations in the state. On the other hand, the California Public Utilities Commission (CPUC) decided to extend net metering in a narrow vote in January. Utilities are now challenging that decision.