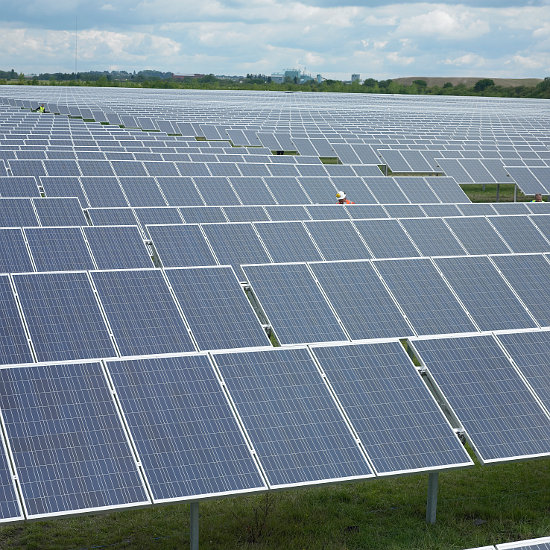 UK solar has continued to break domestic records after generation reached a new peak of delivering almost a quarter of electricity demand.
The data was released by the Solar Trade Association (STA) alongside MyGridGB as part of its third 'Solar Independence Day' being held today (Monday 4 July) and claims that 23.9% of demand was met by solar energy early last month.
According to Sheffield Solar, which records PV generation across the UK in an effort to help the transmission network operator National Grid keep track of intermittent energy sources, solar generated 61.7GWh on Monday 6 June. This was the second highest day of solar generation in the UK after 4 May, when 62.6GWh was achieved.
Installed solar capacity in the UK is thought to have reached almost 12GW after Solar Intel revealed last month that 1.553GW was installed in Q1 2016. Much of this has come through utility-scale solar farms, which were being rushed to completion by 31 March when the latest degression occured in the government's Renewables Obligation support scheme.
Residential deployment has stalled since the government enacted its subsidy reset earlier this year, but the STA estimates there are currently just over 800,000 homes with solar PV and 200,000 with solar thermal, meaning the UK has just over 1 million solar homes.
Paul Barwell, chief executive of the STA, said: "The UK has successfully deployed almost 12GW of solar across the UK, providing nearly 25% during peak generation. This is what the country and the world needs to decarbonise the energy sector at the lowest price to the consumer. The Government's adoption of the fifth carbon budget is a good long-term signal in this regard."
The budget, which was accepted by energy secretary Amber Rudd last week, has been set at 1,725MtCO2e for the period 2028-2032. This is representative of a 57% cut in emissions compared to a 1990 base level and the UK's Committee on Climate Change has estimated that as much as 40GW of solar could be added by 2030 to help reach this goal.