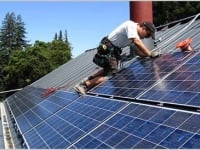 PACE (Property Assessed Clean Energy) is a financing tool that helps commercial property owners overcome the financial barriers of installing solar energy systems on their property. Enabling legislation behind PACE can pay for a variety of energy efficiency investments in both residential and commercial sectors. Specifically in the solar market, this property-based financing opportunity is expanding successfully within the commercial sphere.
Commercial property owners benefit from PACE programmes because they receive low-interest-rate loans to finance their solar investment. PACE lenders are willing to provide lower rates because the payment is secured as a line item on the owner's property tax bill and assumes a lien status senior to the property mortgage. Because this payment structure depends on the participation of local tax collection authorities, each municipality must individually pass PACE legislation for it to be available to local residents. Furthermore, many classes of property owners, including industrial, commercial and non-profits, are eligible as loans are based on property value and ownership, rather than on the creditworthiness of an individual.
Given the following benefits, it is no wonder that states continue to promote new programmes:
There is no cost or investment up-front. PACE providers fund up to 100% financing, helping businesses that struggle with a lack of internal funding.
Property owners see a positive cash flow as projects are designed to ensure that the energy savings lower monthly operating expenses.
PACE assessments will stay with the property if the building is sold. This allows building owners to make deep energy efficiency improvements without having to pay off the financing upon sale. Instead, the payments can transfer to a new owner.
There is the ability to pass payments through to tenants. PACE projects are financed using a property tax assessment. If the owner of a building has several tenants leasing the space of the building, the line item PACE payments will be paid back by the tenants through their building taxes. At the same time, the tenants will see the cost savings on the electricity they pay for while leasing space in that building. This allows tenant and landlord interests to align as the landlord gets the tenants to pay the bill, but the tenants get to see the cost savings.
It offers low interest rates. Interest rates under PACE programmes tend to be in the 6-7% range, sometimes even lower if incentives are provided.
PACE-financed improvements can increase long-term property value. PACE adds a lien item to the property taxes, allowing sellers to price in the value of energy efficiency projects when a property is sold.
It allows customers to utilise their internal capital for purposes core to their business.
PACE for solar
PACE is also becoming a popular way to fund solar installations; with the 30% solar investment tax credit having been shrouded in uncertainty until the end of 2015, when Congress voted for an extension, many regions had already started looking to PACE legislation as an alternative option for property owners wishing to invest in renewable energy.
Since coming to fruition about five years ago, the PACE funding structure has inspired the development of nearly 25 commercial PACE programmes in the US. It is predicted that that number will increase significantly in the next few years as the need for renewable energy and energy savings continues to rise. Current PACE-enabled states include AR, CA, CO, CT, DC, FL, IL, GA, KY, LA, MD, MI, MN, MO, NH, NJ,NY, OH, OR, TX, UT, VA, WI. It is important to emphasise, however, that the PACE programme representatives in most of these states operate in an isolated few municipalities and do not yet have statewide reach. California, the nation's PACE hot-spot, is home to the most PACE programmes, which cover the vast majority of the state's counties and cities. Ygrene Energy is the largest commercial PACE originator in the country, with programmes approved in over 150 cities and counties across California, Florida and Georgia.
Yet, because the programmes are still so new, many have not been exposed to the benefits of the programme to local businesses. In the case of 5 Spoke Creamery, a Hudson Valley-based artisanal cheese making business, PACE financing allowed farm owners to incorporate renewable energy into their production process. 5 Spoke Creamery funded a 53kW solar system through Energize NY, the PACE programme in New York. Farmers are often met with varying operating expenses due to unexpected weather events, cattle care, fuel cost hikes, etc., and these factors are what convinced the owners of 5 Spoke Creamery to invest in a renewable energy system and save money on their monthly costs. The programme's easy repayment mechanism allowed the farm to install a system they otherwise would have struggled to afford. The solar system that was installed provides power for 108% of the farm's electric needs, and now fully offsets the annual electric costs and results in positive cash flow.
Similarly, Cascade Orthopedic Supply Inc., a wholesale distributor of prosthetic, orthotic and related supplies, in Chico, California, installed a solar system through a local PACE provider. The building owner was concerned with the growing energy prices and wanted to reduce monthly costs. A rooftop solar system was installed through this PACE programem and has provided the owners with an annual energy savings of US$22,000.
As PACE financing continues to grow and develop in the US, the hope is that more businesses will understand the benefits of investing in renewable energy. Although financing programmes are still in the early stages of development throughout most of the country, the success stories in established regions like California heralds a bright future for PACE financing.