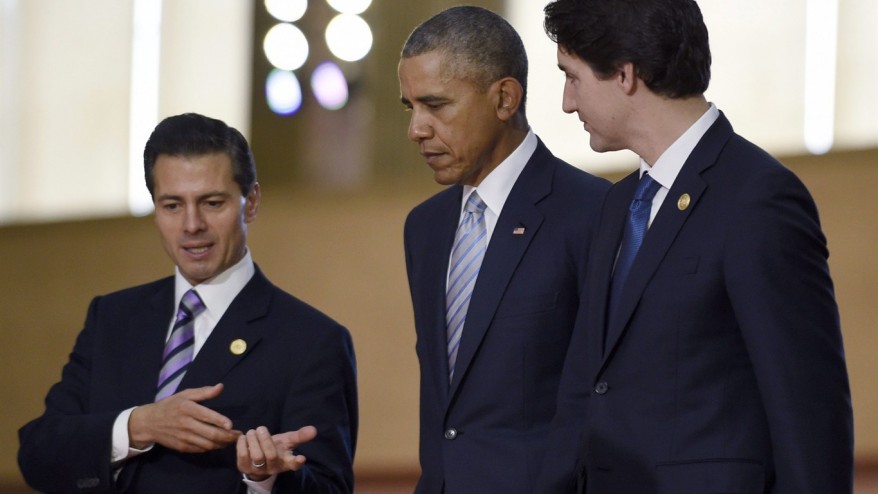 The US, Canada and Mexico are set to announce that 50% of North America's electricity will come from clean power sources by 2025, at the 'Three Amigos' summit in Ottawa tomorrow.
The White House has announced that Barack Obama, Justin Trudeau and Enrique Peña Nieto will commit to an "aggressive but achievable goal" to jump from the current collective clean power levels of about 37% to meet the new target. Wind, solar, hydropower, nuclear plants, carbon capture and storage, as well as energy efficiency measures are on the cards to catapult North America into a new regime of clean electricity.
The commitment is to be a joint one, rather than an individual target to be met by each nation. The initiative will require the most work in the US, who despite leading the pack in terms of solar installations – with a total installed capacity of 27.4GW – in comparison to Canada's 2.5GW and Mexico's 104MW, only derives around a third of its power from clean energy sources. Similarly, Mexico produces less than 20% of its power from clean energy – but officials in the country are building upon a pre-existing pledge to reach 35% by 2024. Mexico is also pledging to reduce methane emissions by 40%-45% by 2025; joining in on a pledge already made earlier this year by its North American counterparts.
Canada, home to a flourishing hydroelectric industry, currently produces 81% of its electricity from clean sources, according to statistics by the Canadian Broadcasting Corporation.
In addition to the new target, summit leaders are also expected to announce new agreements to make it easier and cheaper to both trade and transmit clean energy across North America, to give greater value to integration across the continent.
Alignment across the continent
White House senior adviser Brian Deese said in widely reported statements that the alignment across the continent "is stronger than it has been in decades…In all three countries, there is a significant move toward a clean energy economy".
A new report by environmental experts from the three nations published last week urged the countries to coordinate more on their climate goals in the wake of ambitions outlined in Paris during COP21.
"For the first time in recent memory, the national governments of the United States, Mexico, and Canada are politically aligned on climate change," the report stated. "The three countries should take this opportunity to explore and launch coordinated climate initiatives that could propel the shift to clean energy across the continent and – through international leadership – accelerate the reduction of greenhouse gas pollution globally."
This will be the first trilateral summit between the nations in more than two and a half years. Last year's summit was stalled over the Canada-US dispute over the Keystone XL oil pipeline, and a dispute between Canada and Mexico over visa requirements.