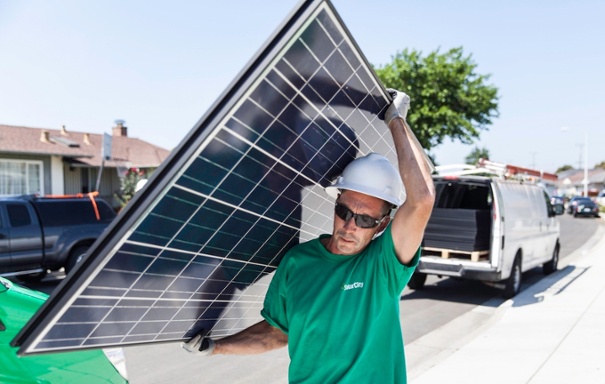 It is no secret that the stock of US residential solar companies has been on the decline with shares falling steadily over the past few years. Last week, SolarCity was down nearly 66% below their 52-week high of US$58.87. SunPower, which has seen stocks plummeting continuously, is down nearly 75% from its 52-week high.
But at a time where the cost of global PV components is at an all-time low and solar installations are thriving, the incongruity is strange. What is going wrong?
According to two finance executives who spoke with PV Tech, the problem lies in the fact that residential solar firms are simply operating under "the wrong business model".
"If you look at the capital markets and all the companies that are publicly-traded, they are not doing so well. I wouldn't put all of them in the same bracket but in general the sector is getting hammered down and at a time where we see solar installations thriving, it is a very weird time in the history of the solar industry," said Camilo Patrignani, CEO of Greenwood Energy.
"I think the underlying reason for it is that the residential solar companies are operating under the wrong business model," he added.
State Street Bank executive Santosh Raikar expressed same sentiment to PV Tech: "Residential solar is still looking for a business model," he said. "For what it is worth, the reason why SolarCity went through this acquisition and Vivint Solar and a number of other companies that are not doing as well as they should in a stable market environment, is because we don't really know what business model works for residential solar at this point."
A change in roles
According to Patrignani, part of the problem is an inadvertent shift taking place in the residential sector as companies are transitioning into slightly different roles than previously assumed. Whilst there is nothing wrong with this per se, this shift has yet to be recognised in the business model of such companies: "The way [residential solar companies] want to be perceived is as a solar power producer, but they are all quickly shifting into what I would call an installer company model where their revenue comes from selling systems and from installations and not from selling power through a PPA."
An example of this would be SolarCity's recent announcement to offer solar loans; in a programme that replaced the company's MyPower product – a solar financing option that previously combined a low upfront cost and the utility savings of a PPA with ownership benefits. Through the loans, the integrated residential installer is now in the business of financing installations as an intermediary, as opposed to selling power. In addition, the company also recently branched into installation, financing and consulting services for utility-scale solar as well as energy storage development in a range of new utility and grid services.
"SolarCity has done an outstanding job in terms of getting the vertical integration lined up and they have extracted a lot of cost efficiencies for that. But perhaps that business model works only under certain constraints. You need to look into other different models which will potentially propel growth," said Raikar. "If you look at distributed generation, the idea is that you provide electricity where the consumption is. But perhaps, for distributed generation you need distributed origination so you can continue to feed the pipeline like SolarCity or Vivint or whoever, have done."
In the meantime, straddling an intermediary position between a power producer and a power broker does not seem ideal, according to Patrignani.
"I think many companies are going to go under," he admitted. "I really feel like the local installers are going to proliferate even further as more and more clients opt to buy their systems and use their own tax equity, which is very effective. I think there are going to be more finance companies to offer these loans and banks are going to enable you to upsize the mortgage or refinance or take a home equity line; I just think there is a big shift in how people purchase solar installations; and that is going to affect very deeply all the residential solar companies."
The upside
As publicly-traded companies that typically dominate the residential sector struggle amid an identity transition, the market is arguably opened up for more participation.
"I think this is all good news for smaller businesses and local businesses and also for medium-small sized investors like ours because we are seeing a lot less competition from the public companies as they may be having a hard time raising capital," said Patrignani.
I think that SolarCity is a good example; if they fail to merge with Tesla, they are probably going to go under – there are no investors willing to put money into loss-making companies and companies with the wrong business model. SolarCity is the largest residential installer, and if they go under, it will be pretty painful for the entire market. So maybe in the long-term it will be better, but in the short-term it's going to be painful."
Greenwood Energy's Camilo Patrignani and State Street Bank's Santosh Raikar will be speaking at Solar Media's Solar Finance & Investment USA event on 25 & 26 October. More information can be found on the event website here.