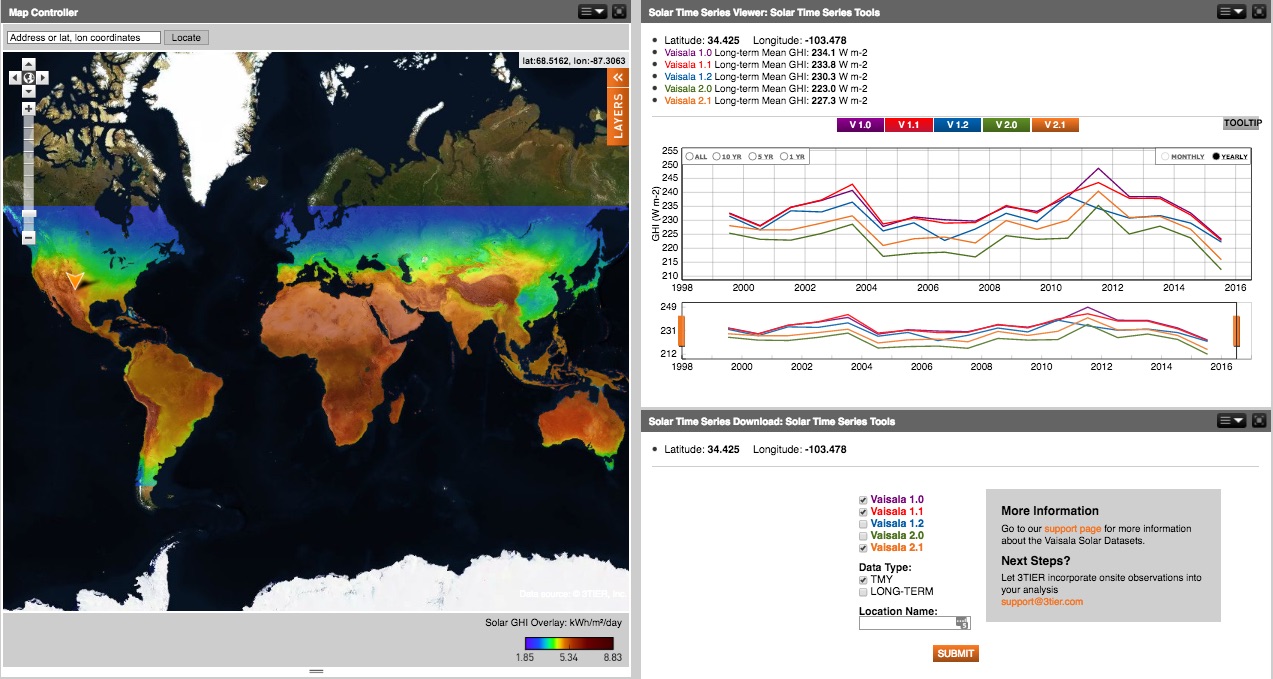 Vaisala has launched an innovative 'Solar Time Series Tool' that will allow solar project developers, operators, and engineering teams to minimize long-term resource risk and improve energy estimates. The new subscription-based service removes the barriers of cost and time in accessing multiple high quality solar resource datasets.
Problem
To date, the solar industry has either used publically available irradiance datasets based on single models or relied on third-party providers of resource data to carry out evaluation of the available sources. As margins on solar projects worldwide get tighter, it is increasingly critical that asset owners are able to understand and manage the impact of long-term production variability when undertaking financial planning. In order to do so, maintaining access to reliable resource data and models is essential. While the number of high-quality datasets available to the industry is steadily growing, each model uses different inputs and methods of irradiance calculation – and therefore carries inherent uncertainty. Accounting for this uncertainty by determining which model is most reliable for a particular site is a highly important consideration before the data is used as a basis for long-term energy yield and financial assessments.
Solution
Vaisala's online Solar Time Series Tool enables users to make substantial time and cost savings by conducting this analysis in-house. The tool allows subscribers to compare results from up to five models for any given site, via a visual interface that enables side-by-side analysis of long-term trends. A single annual subscription price provides access to hundreds of time series globally. The availability of multiple datasets gives users the ability to conduct resource risk evaluation and energy modelling – with applications throughout the project lifecycle. For developers, this could help avoid dramatic shifts in project value. Large deviations between datasets highlight that a project may have greater long-term resource uncertainty and illustrate that there may be a requirement for detailed on-site irradiance measurements. In turn, portfolio owners and operators will be able to use Vaisala's resource data, which is updated monthly, to weather-adjust project performance at multiple sites. Independent engineering firms will also see the benefit of using these high quality datasets as they look to improve the reliability of their energy estimates.
Applications
PV power plant and fleet irradiance measurements.
Platform
Both time series and Typical Meteorological Year (TMY) data can be downloaded directly from the Solar Time Series Tool and are delivered within 24 hours. For annual subscribers, the cost per download for each individual time series equates to just US$50. The Solar Time Series Tools provides access to five global datasets, updated monthly. The dataset is based on visible satellite imagery observations via the broadband visible wavelength channel at a 2 arc minute resolution. This data have been processed to hourly GHI, DNI, and DIF values.
Availability
September, 2016 onwards.