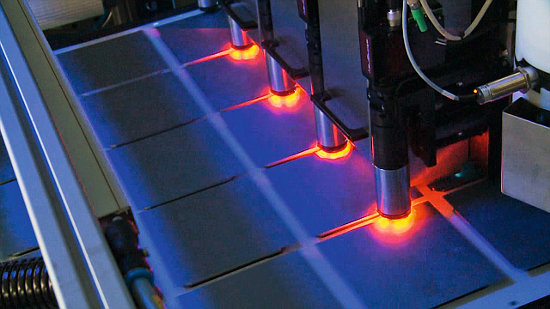 German industry trade organisation VDMA said that new incoming orders for German manufacturers of components, machinery and equipment for the photovoltaics industry, increased by 142% in the first quarter of 2016 compared to the prior year period.
The trade organisation noted that volume of new orders was similar in size to the last major cycle in 2012, before years of chronic overcapacity and were 40% higher than the strong fourth quarter of 2015.
VDMA reported on a geographical basis that Asia dominated new order intake in the first quarter, accounting for around 75% of new orders. However, the trade organisation noted that other regions were also represented with higher order placement than previous, notably the US, which accounted for 12% of the total. Other countries such as Germany accounted for 9% of equipment orders in the quarter.
Dr. Jutta Trube, Director of VDMA Photovoltaic Equipment said, "In the first quarter 2016, the order situation was very positive. For the coming months we see a positive development in incoming orders and turnover. The demand for highly efficient production technology such as PERC, PERT and the like is at a high level. Many of the existing systems will be equipped with these technologies."
On a billings basis, 74% of revenue came from the Far East, while US market accounted for 13% in the first quarter. Germany accounted for 11% of the revenue, while other European countries combined accounted of 2% of the billings total.
VDMA noted that 61% of the billings were related to solar cell production equipment, the key sector followed by machinery for polysilicon production.
Ingot and wafer production equipment billings accounted for 20% of the total, while module assembly equipment billings accounted for 13% of the total in the quarter. Thin-film equipment amounted to only 6% of billings in the first quarter of 2016.
"The considerable investment activity by solar cell manufacturers in increasing existing and new production capacities continues; production is working to capacity, however the low prices have a negative impact on sales. Orders are already coming in from new markets such as India," added Dr. Peter Fath, managing director of RCT Solutions GmbH and chairman of VDMA Photovoltaic Equipment.
The VDMA claimed that German equipment suppliers accounted for around 50% of market in the quarter.