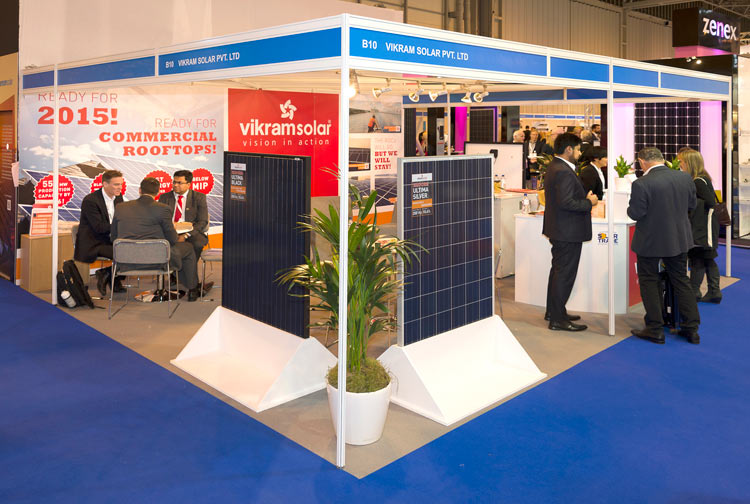 Vertically integrated PV module manufacturer Vikram Solar said it expects a shipment to arrive in Japan this week, making it the first Indian maker to export to the East Asian country.
PV Tech met with Vikram Solar VP of sales Ravindra Goyal at the PV Expo Tokyo show at the beginning of this month. Goyal said that Vikram's first shipment of around 5MW of modules was scheduled to arrive this week.
According to Goyal, the company's modules meet the requirements of the Japanese market for quality. Goyal also described India as being in the "centre of the world" and said that proximity to Japan was therefore reasonable. Vikram already exports to markets including Germany, the US and UK, as well as having a pipeline of around 325MW in India to be constructed within a year, Goyal claimed.
"We started exporting to Japan, already shipments have left from India to Japan to arrive here in Japan by 15 March," Goyal said.
"We have about 5MW of orders in hand, already booked for the Japanese market."
Currently supplying the utility-scale sector, PV Tech asked what type of modules Vikram believed Japan's projects would favour. Goyal said that due to the relative shortage of available land for projects, modules with higher watt-peak output tended to be favoured.
"It's 60-cell mainly, in the range of 255Wp to 275Wp modules. The higher the watt peak the better for Japan because they don't have a lot of land. They want PERC cells, high efficiency cells, but [there are also] some projects there where they use 250Wp, 260Wp modules as well with polycrystalline," Goyal said.
Vikram is also hoping to bring its other services, including operations and maintenance (O&M) over to Japan at scale, although Goyal stressed that these plans are still at an early stage. Some of its engineering, procurement and construction (EPC) teams are already active there, working on a handful of projects of between 3MW and 5MW capacity. Going back in the other direction,
Goyal also said that the company's module manufacturing capacity in India has now reached 500MW and that it is targeting 1.2GW by 2018 and is hoping to also enter the cell manufacturing space.
News outlets in India were reporting this morning that Vikram has appointed a new executive director of operations, Narasimhachari Kannan, who has formerly held positions at companies including ABB.
Japan's still-attractive FiT market opening up to overseas firms
Japan's PV industry had been known for being relatively closed to foreign imports and to foreign companies in general, especially prior to the inception of the existing FiT scheme in 2012. However, the size of the market, with as much as 10GW added annually since then, means Japan's manufacturers are not able to keep up with demand.
Overseas companies including power electronics makers such as SMA and SolarEdge were also exhibiting prominently at this year's PV Expo. SolarEdge CEO Guy Sella told PV Tech that while the tariff rates have been cut quite significantly in the past couple of years, they still remain attractive enough to draw in international players.
"The Japanese market is growing all the time, you see more and more players and more and more technologies," Sella said.
"Locally they feel the FiT is going down. But if you compare it to any other FiT worldwide, it's very high. They are talking, after the next change, about a FiT equivalent to 24 US cents. That's very high and you can make lots of money under these prices. I think the market here therefore will be very stable and healthy for the coming [term], at least three to five years."
Read Andy Colthorpe's blog summarising some of his findings from the PV Expo and World Smart Energy Week shows in Tokyo earlier this month.