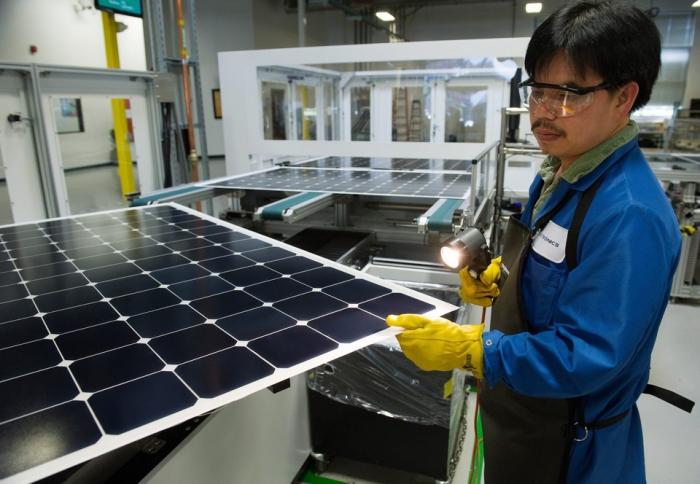 Leading high-efficiency module manufacturer SunPower stunned the market in releasing second quarter financial results with another round of manufacturing restructuring and refocus on its business strategies.
The last major change was barely a year ago and these were preceded by restructuring plans in 2011, 2012 and 2014.
The news that 1,200 jobs would go (15% of workforce) with 1,000 at its module assembly plant in the Philippines that would close and be consolidated at its plant in Mexico, as well as 200 at its power plant segment were a huge surprise to us and the investor community, notably with financial analyst Ben Kallo at Baird Equity Research.
First inline to ask SunPower's management about the surprise restructuring, Kallo didn't hold back on his frustrations.
"It seems like a whole lot of moving parts, just blind site me, maybe not everyone, but definitely me, when you guys have publicly spoken over the past near couple of weeks, we didn't hear any kind of hint of this, we've heard about some in the marketplace, but nothing of this kind of size [of] realignment. And so, just, can you just tell us, when this all came to light here?
Tom Werner, SunPower's chairman, president & CEO replied with a long list of factors that had directly or indirectly impacted the company that led to the latest restructuring but didn't actually address the question, initially.
Clearly not happy with Werner's follow-up responses, Kallo struck back.
"People are going to walk away with two different headlines. And one is, and I guess, my first question is how quickly did you guys know this, because people are going to walk away and say, everything was hunky-dory in the first couple of months of the year and all of a sudden about-face and now it's bad. And so I want to understand how quickly you knew this, so that people don't walk away and say, Tom is a liar, because I don't think that's true," added Kallo.
"Well, I can assure you, I'm not a liar. And that market developments in our case it materialized in May and beyond," said Werner.
Interestingly, in the release of SunPower's 10-Q form detailing second quarter financials, the company made reference to the latest restructuring.
Note 16.
SUBSEQUENT EVENTS August 2016 Restructuring Plan
On August 9, 2016 , the Company adopted and began implementing initiatives to real ign the Company's downstream investments, optimize the Company's supply chain and reduce operating expenses, in response to expected near-term challenges primarily relating to the Company's power plant segment. In connection with the realignment, which is expected to be completed by the end of fiscal 2017, theCompany expects approximately 1,200 employees to be affected, primarily in the Philippines, representing approximately 15% of the Company's global workforce. The Company expects to incur restructuring charges totaling approximately $30 million to $45 million, consisting primarily of severance benefits, asset impairments, lease and related termination costs, and other associated costs. A substantial portion of such charges are expected to be incurred in the third quarter of fiscal 2016, and the Company expects more than 50% of total charges to be cash. The actual timing and costs of the plan may differ from the Company's current expectations and estimates.
However, as has been present in previous 10-Q forms, SunPower noted the following:
Note 7 . RESTRUCTURING
'During fiscal 2011, 2012 and 2014, the Company implemented approved restructuring plans, related to all segments, to align with changes in the global solar market which included the consolidation of the Company's Philippine manufacturing operations as well as actions to accelerate operating cost reduction and improve overall operating efficiency. These restructuring activities were substantially complete as of July 3, 2016 ; however, the Company expects to continue to incur costs as it finalizes previous estimates and actions in connection with these plans, primarily due to other costs, such as legal services."
Kallo's frustration in the timing of the latest restructuring seems founded as the 'Note 7' alluded to restructuring from the past years having been mostly completed by early July, 2016.
Decisions made on the closure of the assembly plant could therefore be a more recent event.