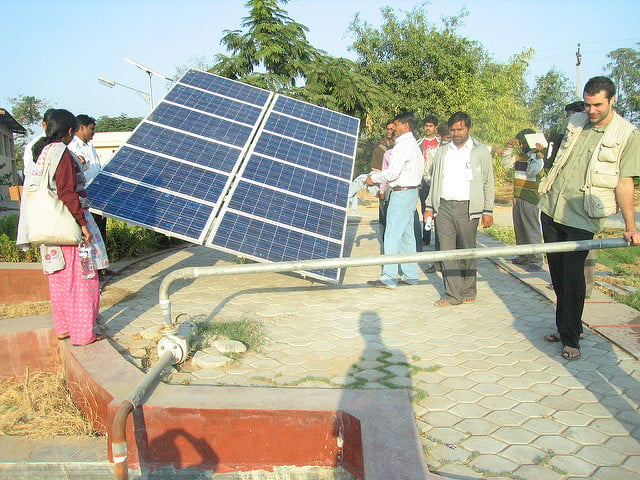 The World Bank has approved a US$625 million loan for the Indian government's grid-connected rooftop solar PV programme, along with a co-financing loan of US$120 million on concessional terms and a US$5 million grant from Climate Investment Fund's (CIF) Clean Technology Fund.
The funds will be used for the installation of at least 400MW of rooftop systems and to support India's overall solar market.
The State Bank of India (SBI) will help deliver the projects by lending to solar developers, aggregators and end-users, mainly in the commercial and industrial rooftop sector. These two sectors have been left out of India's 30% rooftop subsidy scheme.
Until now, rooftop solar enthusiasts have only been able to pay the full cost of solar systems up-front, but the new loans aim to tackle this barrier to growth by supporting various PV business models and introducing third-party ownership, leasing, rooftop rental, as well as direct end-user ownership.
Mohua Mukherjee, senior energy specialist and World Bank's task team leader for the project, said: "The variety of financing mechanisms on offer under this programme will represent a major innovation for the rooftop market. Most importantly, the scope of the project will go beyond simply making finance available, it will also improve the investment climate for solar PV, and increase the ease of doing rooftop business."
In March, a report 'Unleashing Private investment in Rooftop Solar in India' from the Solar Rooftop Policy Coalition, found that with a business as usual approach, India is set to reach just one third of its 40GW by 2022 rooftop solar target. While the nation is currently on a trajectory of reaching just 13.5GW of rooftop solar by 2022, "aggressive market support" could help India double its rooftop installation trajectory to 26GW in the same period.
A World Bank release stated that Power shortages in India affect industrial output with many industries and manufacturers relying on expensive and polluting diesel-based back-up power supplies. Meanwhile more than 200 million people have no access to electricity.
Despite this, rooftop PV has yet to become widespread in India, with a government official last year claiming that the roll out had been much slower than expected. The World Bank said this was "primarily due to the lack of adequate financing, unfamiliar technology and low consumer awareness".
Onno Ruhl, World Bank country director in India, said: "Through this project and others like it, tens of millions of electricity customers will eventually be able to generate part of their own electricity needs, from one of the cleanest sources of energy."
Various regions of India have started to move on rooftop solar-friendly policies, with the Indian city of Chandigarh planning on becoming the second municipality in India to make rooftop solar mandatory on all buildings.
Last month, the state of Gujarat also introduced a subsidy for residential grid-connected rooftop solar systems on top of any benefits provided by India's Central government.
If you are looking to invest in or develop solar projects in India, join Solar Media on the 7th of June in London at Solar Finance & Investment: India, a conference designed to bring together European and North American investors and developers looking into the Indian market, as well companies with consolidated presence that are exploring new partnerships.