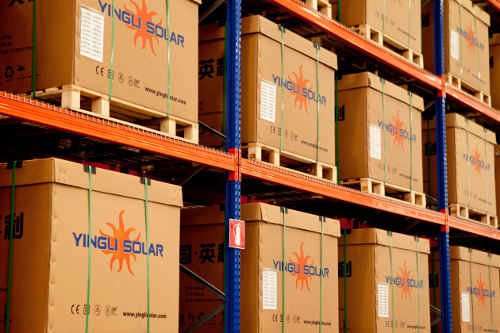 Yingli has failed to reach agreement with its bondholders with the company owing around US$47 million on May 12 with further repayments from another bond still under negotiation.
It repaid 70% of its 2010 bond in October 2015 but in a statement released on Wednesday, it said bondholders now expected the balance. At a meeting on 28 March holder of the 2010 bond "demanded Tianwei Yingli to repay the remaining portion of the 2010 MTNs in full together with accrued interests between April 30, 2016 and May 12, 2016".
Talks on a 2011 bond (US$216 million approx), also due for repayment on 12 May, stalled with Yingli proposing an extension of two to three years "so that it has more time to secure funding necessary for repayment of the 2011 MTNs through cash flow from continuing operations and other financing options such as liquidation of certain land use rights and introduction of strategic investors".
Holders of the bond countered by requesting that the subsidiary Yingli China be added as security against the bond. Yingli China has previously been the owner of downstream projects.
Yingli Green had US$1.55 billion in short-term borrowings, including current portion of medium notes and long-term debt and total current liabilities of US$2.96 billion at the end of the third quarter of 2015, the last time the company filed a quarterly report.
As of September 30, 2015 Yingli Green reported it had US$115.6 million in cash and cash equivalents and US$136.9 million in restricted cash with approximately US$1.04 billion million in unutilized short-term lines of credit at the beginning of December, 2015.
The company had quarterly operating expenses in the range of US$67 million, excluding impairment charges in the first three quarters of 2015.
Previously, Yingli Green had stated in its third quarter 2015 financial release that it was seeking ways to repay the outstanding 30% (US$46.2 million) of the 2010 bond before October 2016.
The inability to access unutilized short-term lines of credit when the 2010 bond repayment was due last year, would seem to further highlight Yingli Green's difficulties in meeting such outstanding payments from its cash position.
The 2010 bondholders push to recoup the balance with accrued interest between the dates of April 30 and May 12, 2016 also highlight the possibility of increased concerns by the bondholders of Yingli Green's liquidity position.
The company had indicated last year that it would also be seeking new investment partners to raise cash and meet debt payments but no updates on those endeavours have been publically made.
Yingli Green said recently that it settled its anti-trust lawsuit with Solyndra for an agreed payment of US$7.5 million with the possibility of further payments, dependent on its US shipment levels.
The company has also yet to announce a date for releasing fourth quarter and full-year 2015 financial results.
Additional reporting by Mark Osborne