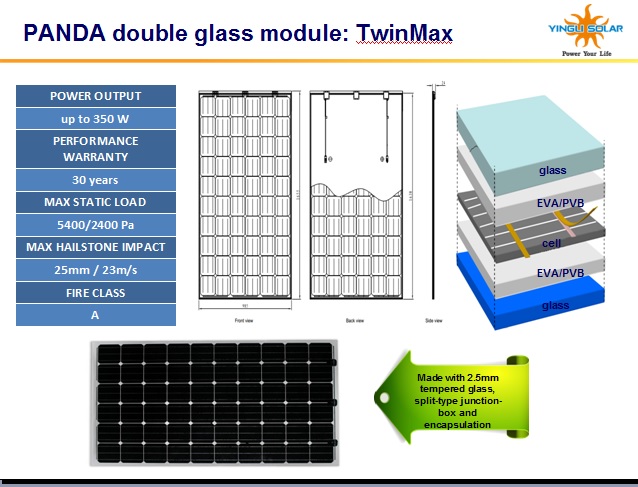 China-based integrated PV manufacturer Yingli Green Energy is supplying one of its upstream manufacturing equipment suppliers with its N-type 'PANDA' bi-facial modules for a 400kWp ground-mount power plant at Tempress Systems headquarters in the Netherlands.
The PV power plant will include 1,428 'PANDA' modules that use n-type PERT (Passivated Emitter, Rear Totally Diffused) cell technology previously developed by Yingli Solar, Tempress Systems and ECN.
Tempress Systems, which is part of Amtech Group has begun construction of the power plant, which could be the largest bi-facial plant in Europe. The PV plant has been developed in cooperation with Sparkling Projects and has been engineered by Schulz Systemtechnik BV, which will undertake the installation.
The modules will be mounted on a fixed rack produced by Benz Alusysteme GmbH that has been specially designed for bi-facial modules to optimize the rear side performance of the cells. The modules will be equipped with microinverters from APsystems Inc., to ensure optimal energy generation and monitor the performance of each module.
"We are proud to be the first in Europe to install a bi-facial PV plant of such a large size," said Dr. Albert Hasper, general manager of Tempress. "Besides electricity generation, this plant will also be used as a showcase to prove the benefits of using bifacial module technology."
This project was said to have been granted with a SDE+ subsidy from the Dutch ministry of Economic Affairs to encourage the production of renewable energy in the Netherlands. Sebastiaan Masselink, independent advisor to the renewable energy industry, arranged the debt financing for the bi-facial PV-solar project, which will be provided by sustainable lender ASN Bank.