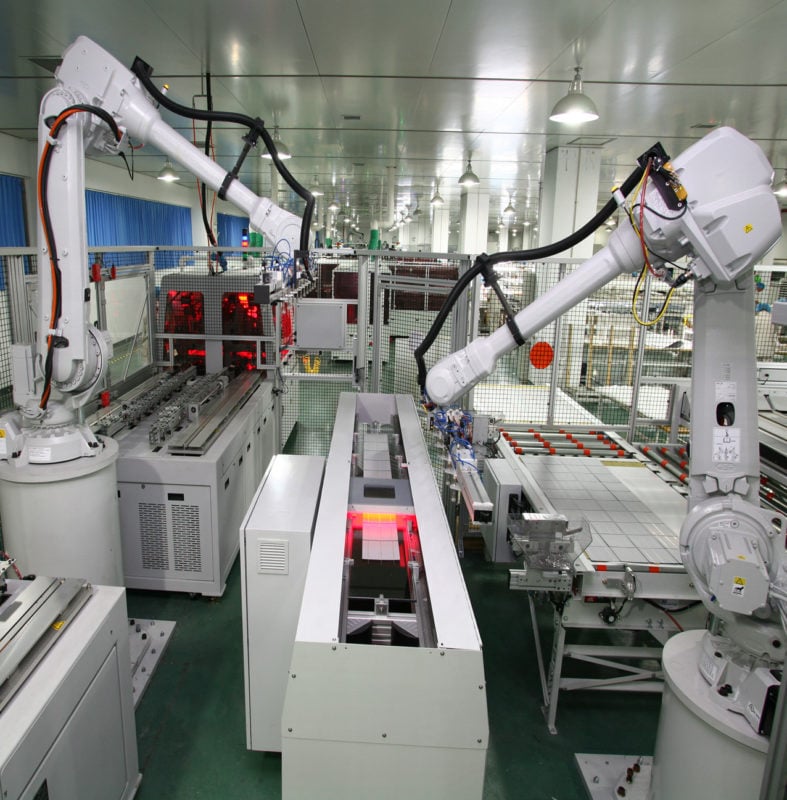 Technically bankrupt, former 'Silicon Module Super League' (SMSL) member and once leading player in the solar industry, Yingli Green Energy has finally filed its 2016 annual report and its cash position looks increasingly precarious.
When Yingli reported fourth quarter and full-year 2016 results in April 2017, PV Tech highlighted that the company had lost US$293.6 million that year.
However, a key metric of cash and cash equivalents at the end of 2016, given the dire financial health of Yingli was not provided. Instead, the figure used was for cash and cash equivalents as of September 30, 2016, which was US$73 million.
In between releasing full-year financial statements and issuing its annual report, Yingli paid bondholders US$46 million to avoid further partial payment defaults.
In its 2016 annual report, Yingli's cash and cash equivalents at the end of 2016 stood at US$72.9 million.
At the point of paying bondholders in early May, Yingli's cash position may well have sunk to below US$27 million, without considering first quarter 2017 losses.
The company is therefore hanging on by its finger tips.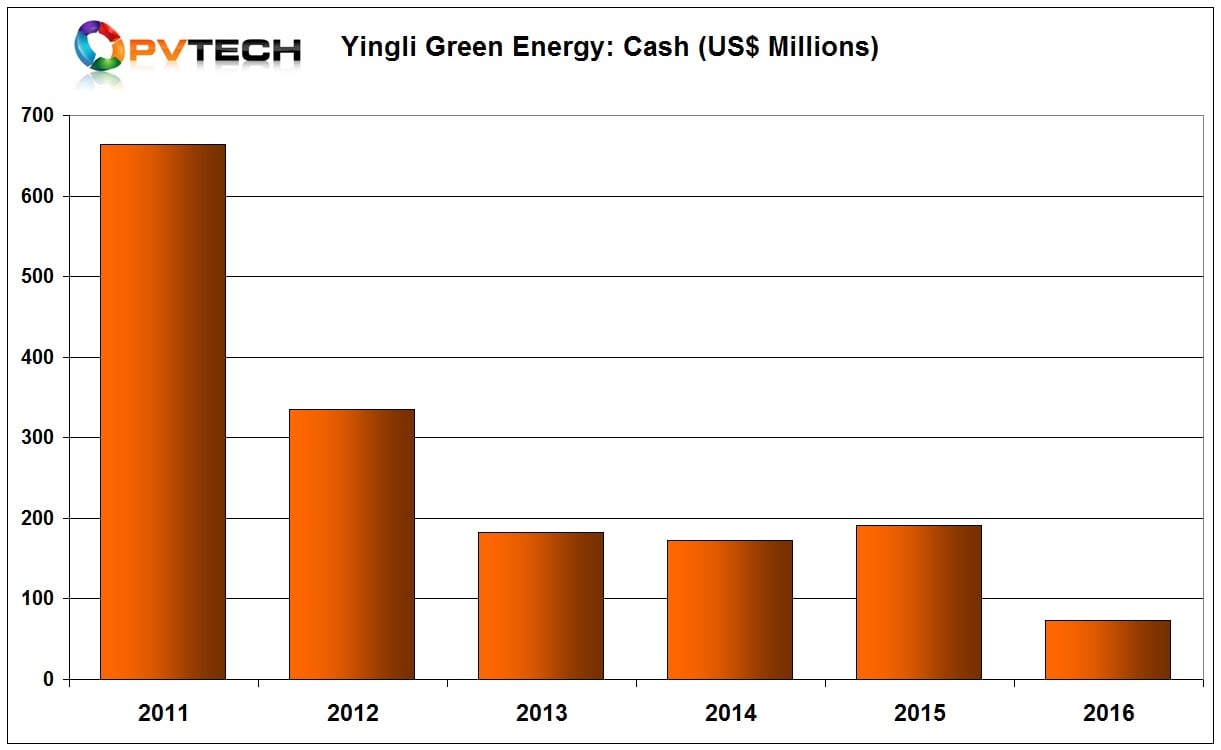 Restructuring
Remarkably, those finger tips have proved to be very strong as technically the company has never publically proposed or enacted any restructuring plan in any period in the history of the company.
In its leadership days, Yingli Green claimed to have around 4GW of PV module capacity and included in that the well-known 600MW of fully integrated 'PANDA' advanced technology capacity, which remains in use today.
However, total PV module shipments in 2016 were 2,170.4MW, compared to 2,447.0MW in 2015. Module shipments peaked at 3,361MW in 2014.
The company has therefore only been able to utilise just over 50% of its nameplate capacity in 2016. To cut cost it has been shedding jobs and lowering other major expenditures such as R&D spending.
As the chart below shows, Yingli Green's total employee numbers peaked at 19,306 at the end of 2013 on the back of module shipments of 3,234.3MW and cash had already sunk to US$172 million.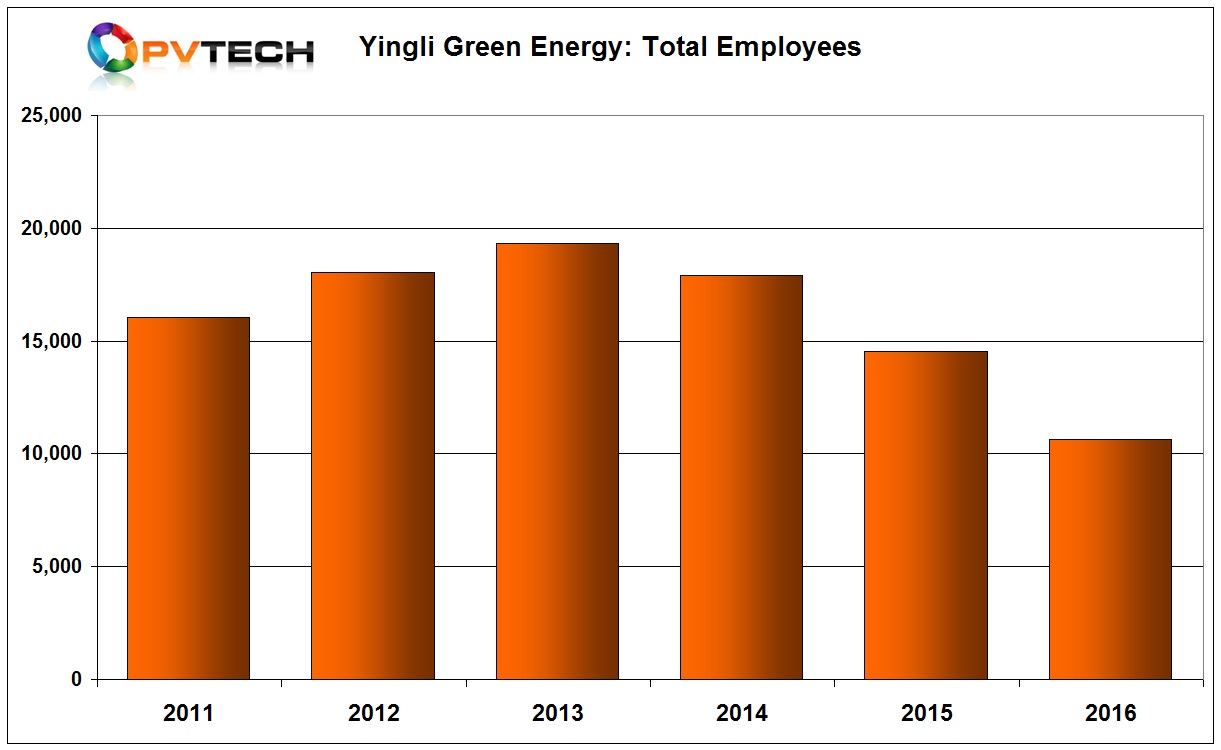 Fast forward to the end of 2016 and Yingli employed 10,625 workers on the back of 2,170.4MW of module shipments. The company has in effect shed a total of 8,681 employees since the end of 2013, around a 45% decline.
This has certainly been one of the reasons why the company has been able to continue to operate on the back its huge indebtedness and declining sales and shipments, all this time.
However, when taking a basket of leading PV manufacturer's employment figures in recent years, Yingli Green remained the third largest employer in 2016 and remained the largest through 2015.
In contrast, Canadian Solar employed (9,724) closest to Yingli's figures of 10,625 at the end of 2016 but Canadian Solar has module shipments of 5,232MW, compared to Yingli's 2,170.4MW.
Clearly, Yingli has been forced to undertake restructuring of sorts but has a long way to go to be benchmarked against the likes of Canadian Solar.
How long Yingli can survive is anyone's guess but it could focus more on restructuring its activities than it has done so to date.