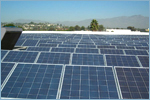 Solar panel manufacturer Yingli Green Energy's subsidiary, Yingli Green Energy Europe, has signed an agreement with Jenner Renewables to provide EPC services and supply modules for 12 ground-mounted PV plants in Chile, with the total capacity of 146MW.
As part of the agreement, the project will be split into two phases, with Cluster 1 featuring four PV projects and construction set to start in February 2018. The four sites will be operational by June 2018.
Cluster 2 of the PV pipeline includes eight projects and will begin by the completion of Phase 1. As the EPC contractor and exclusive solar panel supplier for the project, Yingli will provide its multicrystalline YL325P-35B modules.
Jorge Calvet, founder and CEO of Jenner Renewables, said: "As an independent power producer operating throughout Latin America, we are very excited to contribute in such a significant way to the development of renewable energy in Chile. This country is at the forefront of implementing a carbon free electricity system by 2040 and our projects definitely support this strategy.
"This is part of our renewable energy pipeline of 1,500 MW, which we intend to develop over the next 3-4 years in Chile, Mexico, Colombia, Argentina and other countries in the region."