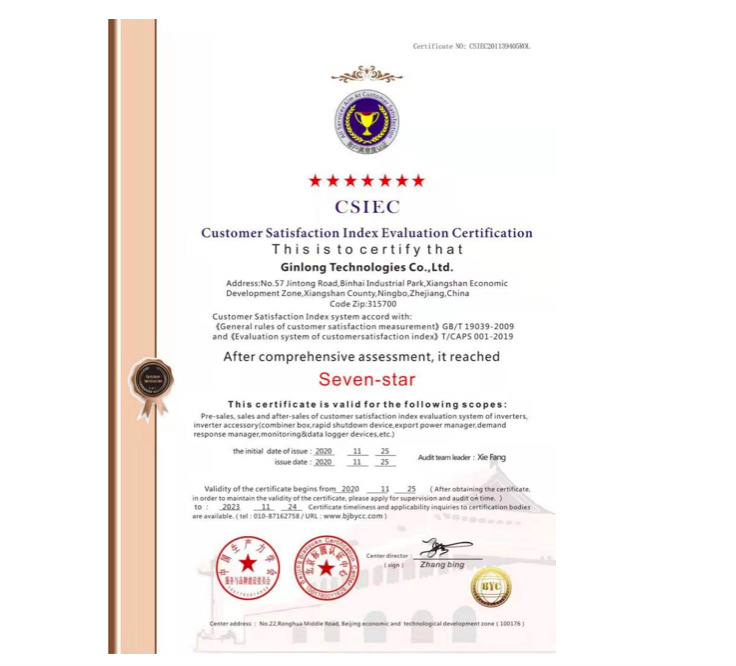 Ginlong Technologies (Stock Code: 300763.SZ), a global leader in photovoltaic string inverter manufacturing, has been recognised as a winner in the Seven-star Customer Satisfaction Index Evaluation organised by the Chinese Association of Productivity & Science. The company becomes the first and only inverter manufacturer to reach such a high-level of customer satisfaction and the award reinforces Ginlong Solis' commitment to excellent service.
With the advancement of its globalization strategy, Solis recognises that it needs to adapt to differing requirements such as climate and geographical environment when exporting products to other countries and regions. 15 years on from its foundation, the company is still focused on its original objectives and mission, actively responding to different market needs and developing targeted products to meet those needs. Solis has after-sales centres across the world which can be reached quickly and provide a response within 24 hours.
"We are honoured to have received this award. It is not only national recognition of Solis' existing service capabilities, but also a reminder to continue to improve pre-sales, sales and after-sales services," said Mr. Jonson, Customer Service Director at Solis' Global HQ. As a leading manufacturer of string inverters, Solis has always put the needs of its customers at the forefront of its development. Relying on technology, R&D strength and local production and development capabilities, the company is able to achieve a customized and differentiated product range. Its 1500V high-power solutions and 1100V conventional solutions can meet the application needs of customers around the world, and creatively provide those customers with the highest quality products and services.