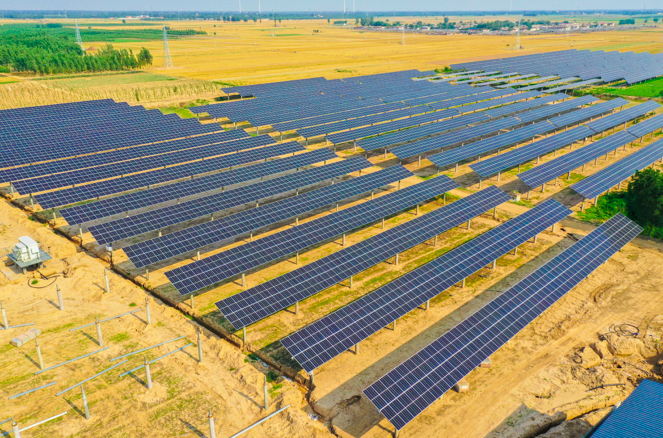 A 400MW agricultural photovoltaic solar plant in Nangong, China is currently over halfway through construction, with the project adopting Trina Solar's 210 Vertex 550W series modules with TrinaTracker Vanguard 2P trackers to further increase power generation and reduce LCOE.
As one of the few solar companies in the industry with the ability to supply both modules and trackers, Trina Solar can provide an integrated solution for power plants, eliminating issues of incompatibility and separation between the two elements.
The Vertex Module plus TrinaTracker combination forms a core component of Trina Solar's overall portfolio of smart energy solutions. Based on large-size 210mm silicon wafers, the 210 Vertex module achieves low voltage and high power with innovative non-destructive cutting and high-density cell interconnection technology, enabling module power to reach 670W with an efficiency of 21.6%, with single string power capable of reaching 40% higher.
The new-generation TrinaTracker uses the intelligent "SuperTrack" tracking algorithm, independently developed by Trina Solar, which combines bifacial enhancement with intelligent backtracking, allowing high yield generation even with diffuse and indirect radiation. SuperTrack can increase energy production by up to 8% over a traditional astronomical algorithm.
The independent single-row Vanguard 2P tracker is fully compatible with 210 modules up to 670W. In addition, TrinaTracker's patented spherical bearing contributes to reducing extra pressure and component failure due to system deformation and its robust torque tube and multi-drive system provides stability under extreme wind conditions. In terms of investment, the optimized design structure of the TrinaTracker Vanguard 2P cuts down on the number of piles, resulting in reduced BOS cost and installation time.
TrinaTracker's high-quality components and preventive maintenance also reduce the number of O&M activities required during the lifetime of an installation, resulting in lower LCOE (Levelized Cost of Energy).
"According to actual local insolation conditions and past data, the equivalent power generation hours over the last three years are less than 1,250 when using a conventional solution, while upgrading to Trina Solar's bifacial dual-glass 210 Vertex modules increases the number of hours expected to no less than 1,350 and, with TrinaTracker, this can be increased by another 9% to around 1,471 hours, significantly improving an owner's profitability," commented Wu Tengfei of Trina Solar China, the head of the project.