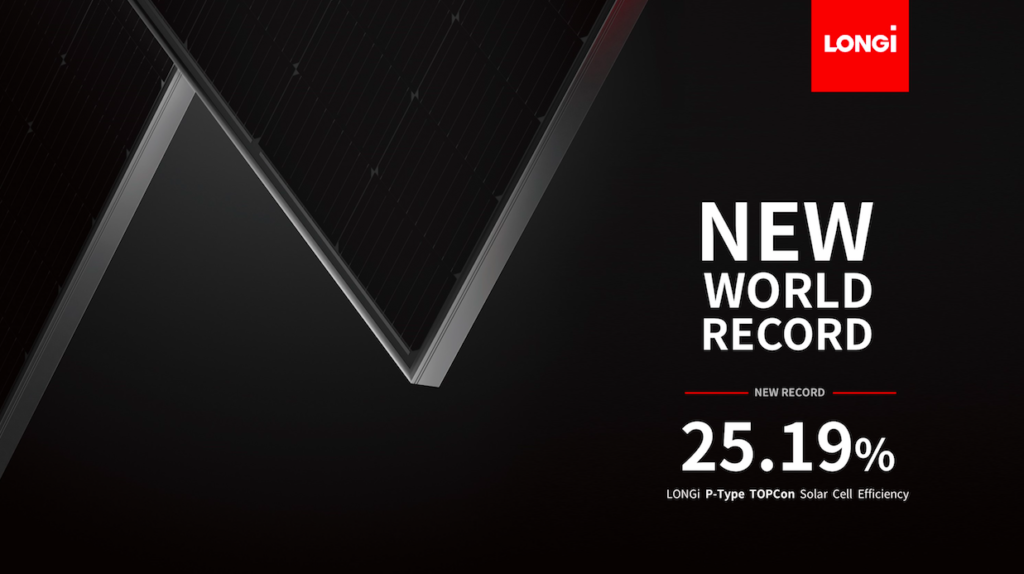 LONGi has announced a new world record of 25.19% for P-Type TOPCon cell conversion efficiency, only one month after the company broke the previous record of 25.09%. The new record, based on monocrystalline cells developed at LONGi's Cell R&D Centre, was confirmed in testing carried out at the German Institut für Solarenergieforschung (ISFH), and raises the conversion efficiency of cells based on CZ wafers to a new level.
Based on its original innovative high-efficiency cell and module technology, the Cell R&D Centre consistently drives forward the PV industry's technology development and industrialization with an impressive series of efficiency records. In January 2019, the conversion efficiency of mono-crystalline bifacial PERC cells reached 24.06%, a record still intact today, whereas, for N-type TOPCon cells, the Centre announced in June the world's highest conversion efficiency of 25.21%, certified by globally recognized testing institutions, further underlining the company's industry leadership.
"We always adhere to the development concept of high target traction, choosing the right direction, focusing on industry-leading technology and seeking to push back the boundaries for product development, thus driving technology change within the industry", commented Dr Li Hua, Head of the Cell R&D Center.
Advancement in new energy technologies is one of the key elements in achieving the ultimate goal of carbon neutrality. LONGi's independent innovation and foresight guarantees its long-term leadership of the industry in terms of efficiency, performance and quality.