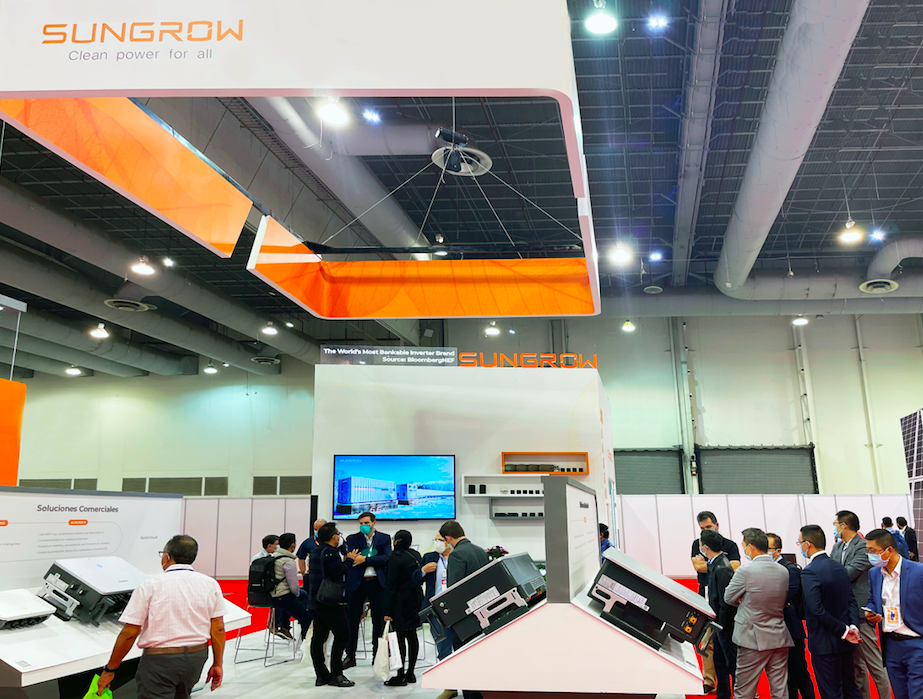 Sungrow has showcased its comprehensive product portfolio at Solar Power Mexico, covering solutions for utility and C&I PV and energy storage.
The company launched its new market-leading SG350HX system, boasting a maximum power output of 352kW, redefining high-powered string inverters and guaranteeing an excellent return on investment for stakeholders. Its 6.25MW and 3.125MW medium-voltage transformer integrated turnkey inverter solutions for utility-scale projects were also on display at the event.
With momentum for the C&I market continuing to grow, Sungrow also presented its updated SG36CX-US and SG60CX-US string inverters, which offer 36 kW and 60 kW solutions tailored to rooftop installations. Equipped with multiple MPPTs, the inverters enable high yields and, with compact design and smart management functions, they are known for easy installation and monitoring.
Energy storage technologies are continuing to play a vital rôle as Mexico transitions to renewable energy. Sungrow offers a series of energy storage system (ESS) solutions, its highly integrated ESS capable of use in multiple applications, including peak shaving, demand response and micro-grid, while a higher energy density feature enables a smaller footprint and less investment.
"Mexico is booming with solar resources and we are delighted to extend our product portfolio to meet customer demand. As a dedicated solar player, Sungrow will continue to develop and present new cutting-edge PV and ESS solutions to meet Mexico's transition to renewable energy," commented Ada Li, Head of Sungrow Latin America.