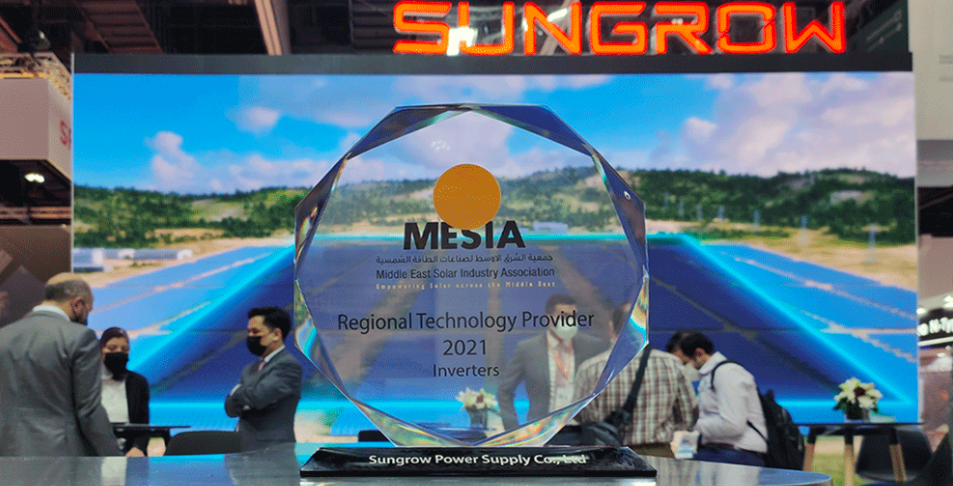 Sungrow has announced that it was recognised at last week's World Future Energy Summit in Abu Dhabi with the 2022 MESIA solar award of "Regional Technology Provider for Inverters," endorsement of the company's outstanding performance in the Middle East and North Africa over a number of years.
The Middle East Solar Industry Association (MESIA) is the largest solar trade association in the MENA region, representing over 150 international and local organizations, and its award to Sungrow also incorporates recognition of the company's SG350HX ultra-power string inverter and the innovative "1+X" modular inverter.
According to MESIA's panel of experts, the two utility-scale inverters have proven to be particularly adaptable technically to the MENA region, being able to lower LCOE via compatibility with the growing preference for higher wattage. Both products have met all international and IEC standards and have high levels of protection.
Sungrow showcased several other new products at WFES, including its latest 1500V liquid cooled energy storage system and the new-generation SH6.ORS storage system for residential applications, with the company announcing the signing of a total of 340MW of residential and C&I inverter orders with well-known regional distributors including the UAE's Orange, Egypt's ACO and AI-Raebi from the Yemen.