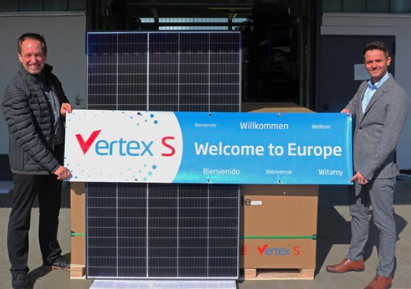 Trina Solar has announced that the total volume of orders for its distributed Vertex 500W and Vertex S 405W modules has now surpassed 2GW, with the first batch of Vertex S modules having arrived in Europe for mass installation.
Trina Solar launched the distributed version of the Vertex 500W module in February 2020. The module, based on 210 technology, MBB, non-destructive cutting and high-density cell interconnection, created a positive impact as soon as it was unveiled.
In November 2020, to meet huge demand from the distributed market, Trina launched the new Vertex S series, a new generation of high-efficiency module specifically designed for distributed residential and commercial rooftop applications,. The product follows 210mm cell technology, with output power exceeding 405W+ and with a module conversion efficiency of 21.1%.
Compared with traditional residential modules in the market, the Vertex S features high reliability and high efficiency, combined with small size and light weight, enabling flexible installation, efficient system adaptation and easy transportation. With its exterior design, it also supports options to meet the diverse needs of both residential and commercial customers. According to calculations, on a 10m x 5m pitched roof, installed capacity can reach 10.935 kW with a Vertex S 405W module, compared to only 10.125 kW with the 166mm 6 x 10 version of 375W modules.
The 500W Vertex module, faster and more economical, can increase installed capacity over the same area by 11% and 22% respectively when compared with other 450W and 410W alternatives. The 500W module can achieve a maximum power of 510W+ and a maximum efficiency of 21.2%+, saving RMB 0.08 yuan per watt and making it an excellent choice for distributed applications.
Gonzalo de la Viña, Trina Solar's Head of European Module Business, commented: "We are experiencing strong market growth across Europe, thanks to the increasing momentum of renewable energy adoption. Vertex S is designed specifically for the European rooftop market and is a versatile solution for residential and commercial applications. Leveraging the advantages of Vertex S via our strong distribution network as well as commercial and industrial customers, Trina Solar is perfectly placed to meet the needs of the European residential and C&I market."