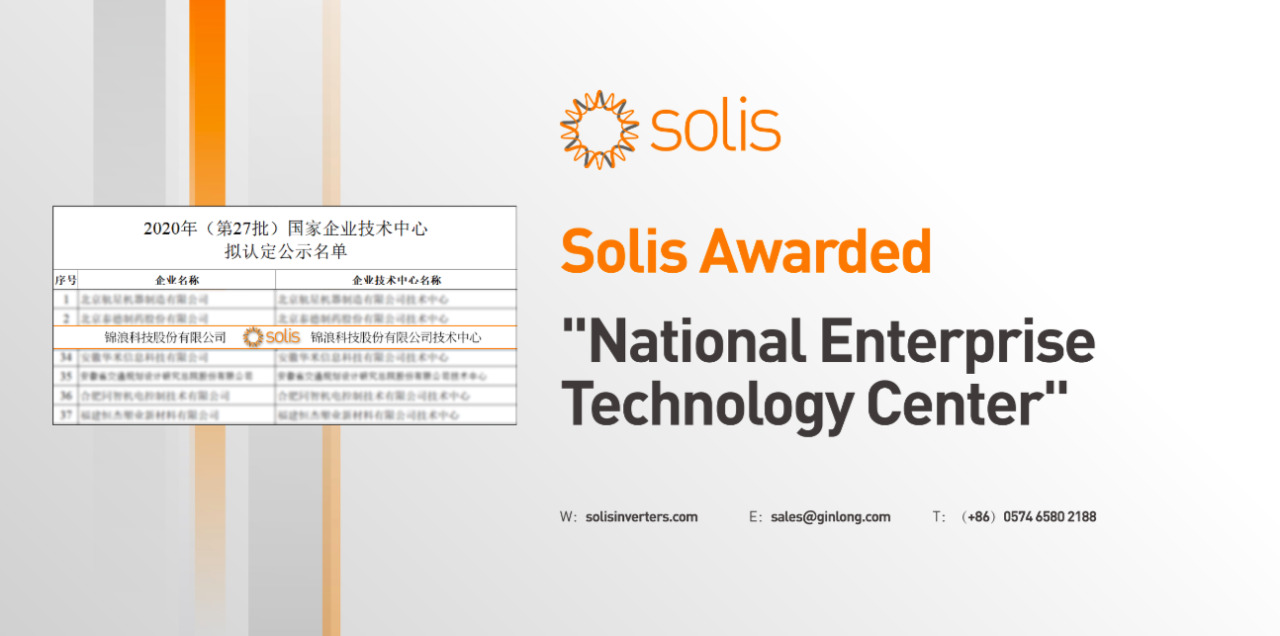 Ginlong Technologies (Solis) has received an award from China's National Development and Reform Commission for its R&D and innovation.
Driven by technology and innovation, Solis has now moved to its 5th generation platform, 15 years on from the company's foundation, and has become part of the National Torch Program in China, awarded as a benchmark to companies in the PV manufacturing industry. Solis has also been the recipient of "Green Factory" recognition and won separate awards from the Zhejiang Enterprise Technology Center and Enterprise Research Institute. The company attaches great importance to scientific and technological innovation, continuously increasing its investment in technology R&D. Compared with the first three quarters of 2019, R&D expenditure during the same period in 2020 increased by 118% and Solis has jointly established a market-oriented platform with other like-minded companies, across a combination of fields such as production, education and research.
"We feel honoured to have received this award. Solis has always taken innovation and development as its starting point and continuously improved its ability to respond to domestic and foreign market demands," said Mr. Kun Zhang, Chief Product Manager at the company's global headquarters. Solis products have been exported all over the world, resulting in a ranking of top PV brand globally, with its single-phase string inverter shipments ranked in the world's top two (Source: Wood Mackenzie).
Yiming Wang, the company's president, commented that "Solis will actively pursue partnerships with universities and institutions with the aid of the National Enterprise Technology Center. At the same time, we will expand our team of technology talents, strive to remain a leader in the PV industry and spare no effort to accelerate the development of energy structure away from coal-based power generation to clean and low-carbon energy."