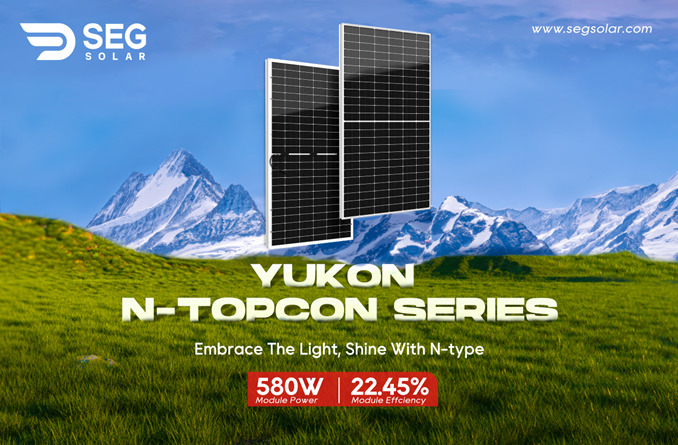 SEG Solar has launched its new generation product, the YUKON N-type TOPCon module, with a maximum power output of up to 580W and an ultra-high conversion efficiency of up to 22.45%.
The new module is specifically designed to meet the needs of ultra-large power plants and is available in 108 and 144-cell and monofacial and bifacial formats. The 144-cell version boasts a power output ranging from 570W to 580W, while the 108-cell module has an output ranging from 425W to 435W.
Adopting an M10 (182mm) N-type silicon wafer and based on TOPCon cell technology, the product lowers temperature coefficient and the risk of hot spot effects, displays superior performance in low light conditions and generates high power for end-users. In addition, the bifacial module increases bifaciality to 85%, which means a 10% higher energy yield compared to a conventional PERC equivalent over its lifetime. Initial testing indicates that the YUKON can also reduce LCOE by up to 4.5% compared to that achieved by PERC modules currently on the market.
The module offers an outstanding 15-year product and 30-year linear warranty. Degradation in the first year is within 1% and power output is guaranteed to be no less than 87.4% of nominal output after 30 years.
"As a new iteration of the SEG Solar product line, the YUKON module represents a breakthrough in solar technology research and development. If innovation is our internal strength, then this new product is our powerful weapon to win over the market," commented company CEO Jim Wood.
The module is already available in Europe and is scheduled for delivery to the US market during the third quarter of 2023.