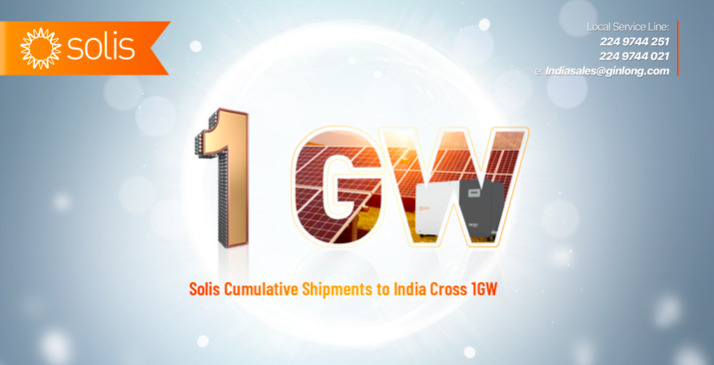 Ginlong (Solis) Technologies has released its interim financial report for 2020, with annual sales expected to reach 3.4 million USD dollars, an increase of 93% on the previous year.
Part of this significant growth can be attributed to the company's strong performance in India. Ginlong first entered India in 2015 and has underlined its strong focus on the sub-continent by now passing the 1GW milestone there. This figure is notable not just for the steady year on year growth, but also the acceptance the firm has achieved, now being one of India's top 3 inverter suppliers.
As an established name encompassing utility, C&I and other industry segments, Ginlong's wide product range has been successful in what is known to be a tough, price driven market, due in main to the long term view the company took for the country from the beginning. Unlike many other companies entering the market around the same time, Ginlong actually focused on delivering the kind of service and warranties expected from top inverter manufacturers. So, from a call centre in Mumbai to a technical service network available online as well as at short notice across the country, Ginlong has proven its commitment to provide Indian customers with real value for money.
The Solis brand, used by the company for global sales outside China, has been built on a focus on quality. From becoming only the second inverter brand to achieve BIS listing for maximum ratings in India, Solis was also the first to pass PVEL (formerly part of DNV-GL) inverter reliability testing. All Ginlong/Solis inverters are duration-tested before shipment to reduce failures during installation. The company has been awarded top brand status by EuPD research for five consecutive years, has BIS certification for its inverters in the 700K to 800K range and has also been recognized by Bloomberg NEF as one of the three most bankable brands in Asia.
Ginlong/Solis has plans to build on its strong legacy of trust worldwide with a massive capacity expansion it hopes to complete in 2021, moving from 5GW to 20GW.
Looking at the future, the company's management has stated that, in line with global trends, the Solis brand will also focus on the energy storage market, where installed capacity is expected to peak at 30 GW per annum from 2030 onwards. That means an energy storage all-in-one inverter and an off-grid energy storage inverter will be next on the development agenda, with plans already underway for the launch of the latter in India during 2021.
Having a technically qualified founder familiar with the risks and possibilities presented by the sector has enabled the Solis brand to make the most of its opportunities. The company has prepared for the next phase of solar growth by securing a stock exchange listing in March 2019, as well as zero debt status, giving it ample options to fund future growth. A strong R&D focus, with investment increasing by more than 100% year on year in the first three quarters of 2020, has helped keep the company at the cutting edge of innovations, leading to a more rapid 'go to market' record and lower delivery lead times for customers.