Sungrow has announced the signing of a PV inverter contract totalling 280MW with Rays Power Infra, a leading integrated solar power company, to build the largest power plant in Bangladesh, providing its industry-leading central inverter solution as well as ongoing comprehensive on-site support.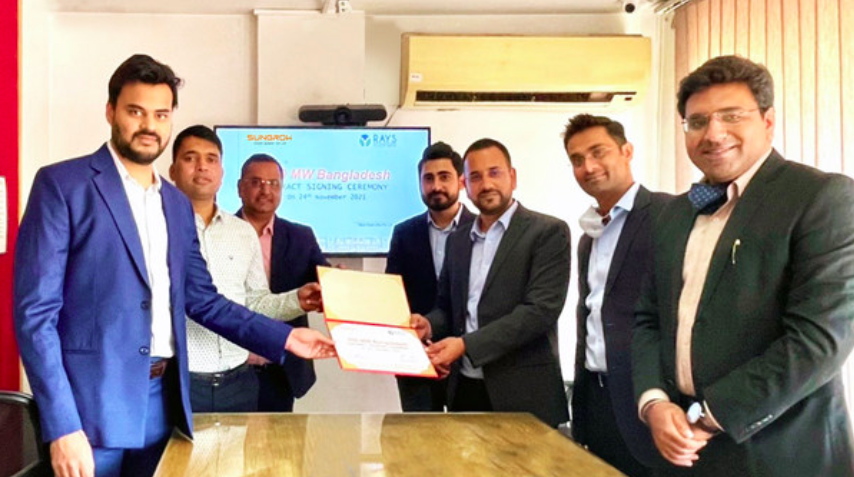 The plant is located in Sundarganj, Rangpur District, on the banks of the river Teesta, with extreme levels of humidity a major consideration in its efficient operation. With this in mind, Sungrow will provide its 1500V 3.125 MW central inverter, which has already been successfully deployed at many significant utility-scale projects with comparable climatic conditions. The inverter boasts a high IP65 standard, guaranteeing efficient power generation, even in areas with 90% humidity like the river Teesta region.
The plant will be connected to the grid in April, 2022 and will subsequently generate an annual 395 GWh of clean electricity, offsetting 316 thousand tons of CO2, powering over 200,000 households and providing more than 1,200 job opportunities for local Bangladeshis.
SP Sharma, Vice President of Rays Power Infra, commented: "We greatly appreciate Sungrow's efficiency in providing its high quality products and after sales service for this project and look forward to enjoying such excellence in the future as well."
Pawan Sharma, Director at Rays Power, added: "We are delighted to announce that we have selected Sungrow for our 280MW project, which is the biggest in Bangladesh. This collaboration will definitely help achieve our common goal of promoting cleaner, greener and better environmental conditions globally."
"Sungrow now holds a 65% market share in Bangladesh and was recently recognised with a 2021 Solar Week Leadership award. This 280MW contract further enhances the mutual partnership between ourselves and Rays Power and opens broader prospects for future cooperation", concluded Mr. Sunil Badesra, International Director for Sungrow.