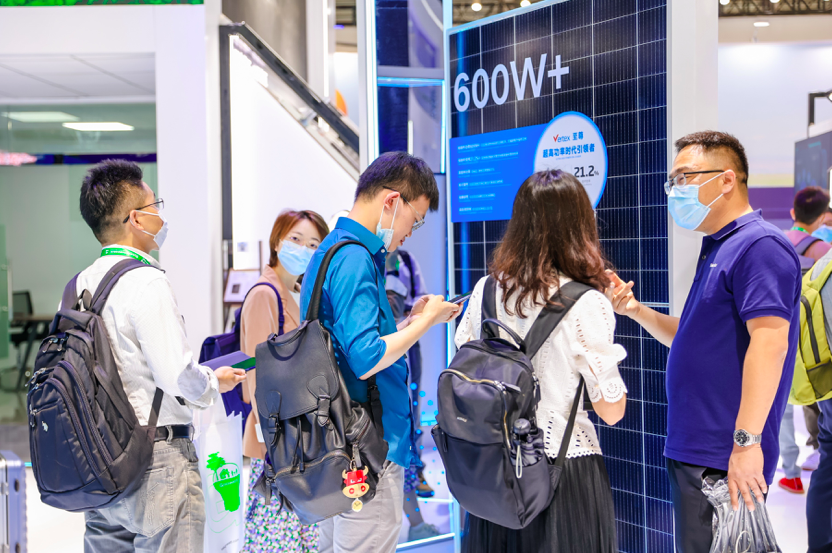 SNEC 2021 was held in Shanghai between 3-5 June and Trina Solar took the opportunity to showcase its latest cutting-edge technologies in the form of its advanced 210 Vertex modules and TrinaTracker products.
High-efficiency Vertex family displays its value
On display at the event were the latest Vertex S 410W+, Vertex 510W backsheet, 550W dual-glass, 600W dual-glass and 670W dual-glass modules.
Trina Solar's Vertex modules (550W & 600W+), based on 210mm size cells, have the characteristics of high power, high efficiency and high reliability and are suitable for large-scale ground mounted PV power plants and large industrial and commercial rooftop projects, possessing the advantage of 34% greater single-string power than that of traditional modules. As of April, global orders for 210mm modules had exceeded 12GW.
To accelerate the application of advanced 210 technology, the company published the "Trina Solar 210 Vertex Module White Paper 2.0" and gave a comprehensive summary of the paper at SNEC, analyzing aspects of the module such as reliability, logistics optimization, compatibility design, customer value and future prospects.
The whole family of Trina Solar's latest high-efficiency products on show at the expo have attracted significant attention from the industry at large.
Distributed products: 410W+ Vertex S and 510W+ Vertex modules
Of all the high-efficiency modules at the show, arguably among the stars were two products for distributed markets, the 410W+ Vertex S and the 510W+ Vertex modules.
Compared with conventional residential-use modules on the market, Trina's Vertex S is smaller and lighter, yet with an impressive 410W high power output. It also features high reliability, high efficiency, flexible installation, wide system compatibility, transportation convenience and sustainability.
The Vertex 510W modules have more advantages in terms of cost reduction and efficiency increase. Calculations show that for the same-sized area, the Vertex 510W module increases installed capacity by 11% and 22% respectively, compared with competitors' 450W and 410W modules.
According to the latest available figures, global orders for Trina Solar's distributed modules currently exceed 2GW, with a significant quantity of Vertex S modules shipped to Europe and South America.
TrinaTracker, the intelligent tracking system also showcased
As a key component of Trina Solar's overall PV solution, the TrinaTracker Vanguard 2P was also on display at SNEC, with visitors to the booth able to learn about the product's strong technical basis,  advantages, complete supply chain and module-tracker integration, with a conclusion of the four key advantages of high reliability, increased power generation and low O&M costs.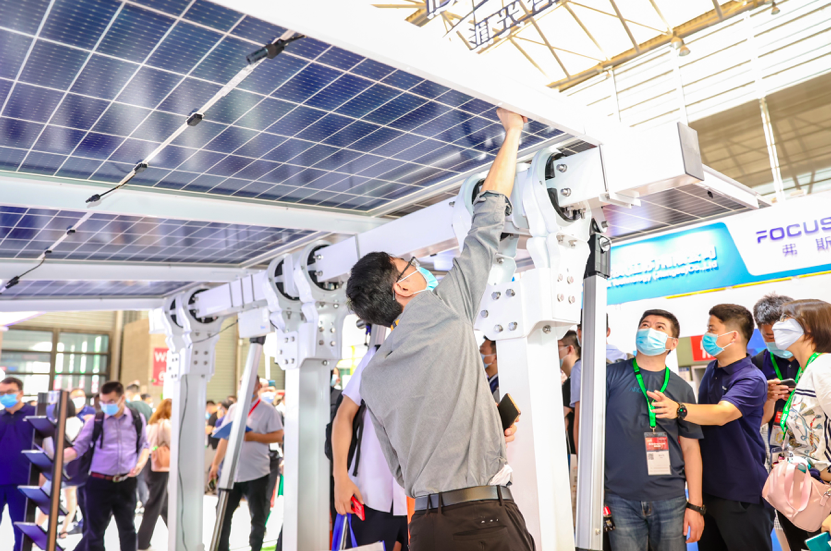 210 technology proves its great potential in i-TOPCon and HJT modules
Also on display was the next generation of i-TOPCon and HJT modules, based on 210 technology. The i-TOPCon module possesses a maximum power output of 700W+, with an efficiency of 22.3%, with the HJT module exceeding 710W+, with an efficiency of 22.87%, the highest among its peers. Both products illustrate the company's strategic platform and leadership position, while 210 technology demonstrates compatibility with different cell technologies for future technical routes.