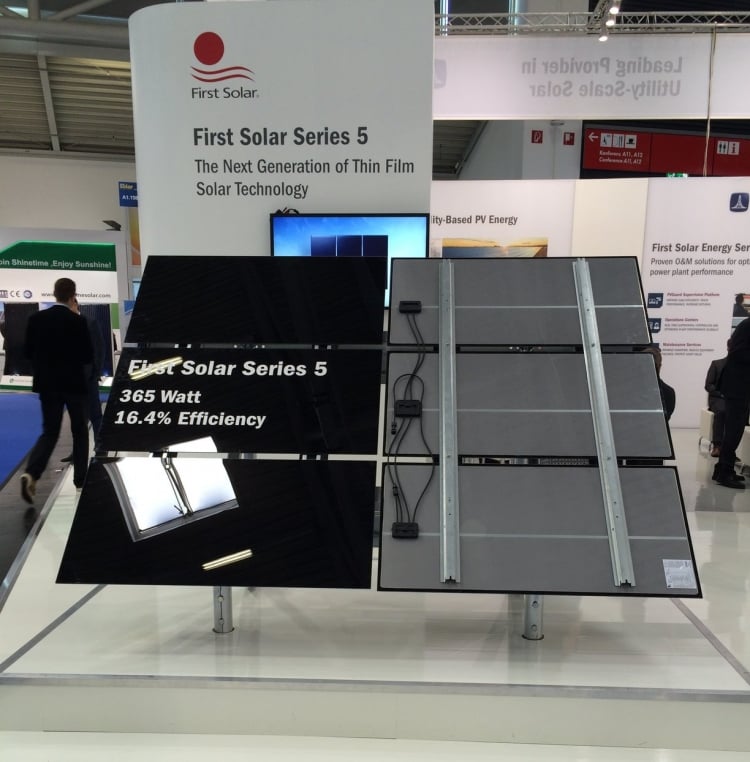 Leading CdTe thin-film producer First Solar has reacted to plummeting global PV module and PV power plant PPA (Power Purchase Agreement) prices by undertaking a major review of its production capacity requirements and planned migrations to its Series 5 and Series 6 modules.
In its third quarter earnings conference call, management acknowledged the significant fall in global PV module prices in the quarter, which have primarily impacted its competitive cost position with its small form factor Series 4 CdTe thin-film modules but also the economics behind its planned migration to its Series 5 product offering that integrates three Series 4 units into a large area module for simplified installations and lower LCOE (Levelized Cost of Electricity).
First Solar noted that global crystalline silicon module prices had declined around 15% in the first seven months of 2016, but the collapse in downstream project demand in China has led to a further 15% ASP decline in August through September.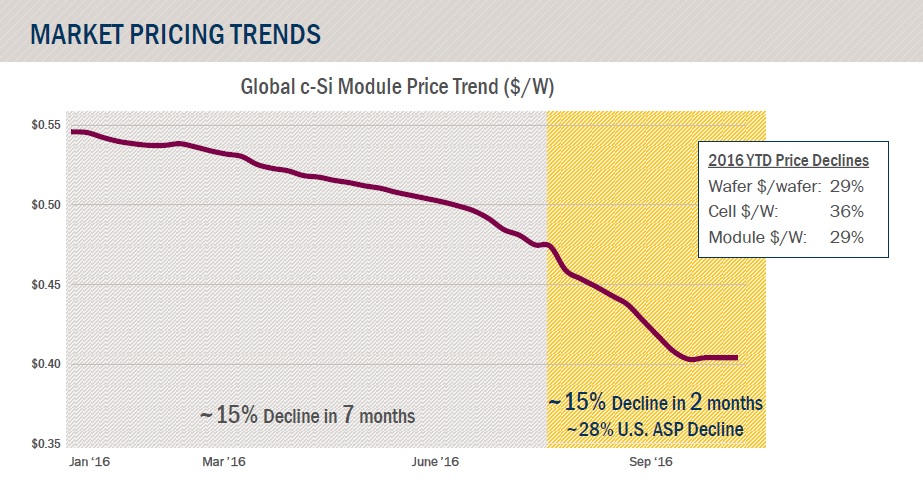 Specifically in the US the ASP decline has been around 28% in that two month period, according to First Solar. Although management did not discuss this US specific ASP decline, PV Tech has repeatedly reported on the capacity expansions by leading Chinese and Taiwanese manufacturers establishing significant solar cell and module production in South East Asia to circumvent US anti-dumping duties.
According to PV Tech's analysis, production capacity ramped outside China and Taiwan exceeded downstream market demand in both the US and EU which have instigated anti-dumping policies. The ramp of meaningful capacity since late 2015 has started to significantly impact US module ASP's and has caught up with global ASP declines.
Series 5 & 6 product strategy review
In the earnings call, First Solar management noted that as in previous periods of rapid module ASP declines it had declined to compete on ultra-low priced projects when the economics provide minimal margins.
"During the past quarter, challenging pricing conditions dictated that in certain situations we needed to apply this strategy, which has impacted our near-term bookings, but we continue to view this strategy as the most sensible long-term approach," noted Mark Widmar, CEO of First Solar. "In these types of oversupply situations, we also will look very closely at our module manufacturing capacity. Our goal is not to push supply into a saturated and margin challenged market, but rather to balance production to meet demand.
As a result of this strategy and current market conditions, we have begun the process of evaluating our module capacity for next year. Closely connected to any capacity decisions is the timing of our Series 5 and Series 6 product transitions. In regard to Series 5, we are looking very hard at the cost structure and how to bring the module cost per watt down further in this competitive environment. In terms of our Series 6 product, we have dedicated significant resources to focus on how to accelerate the roadmap and product availability," added Widmar.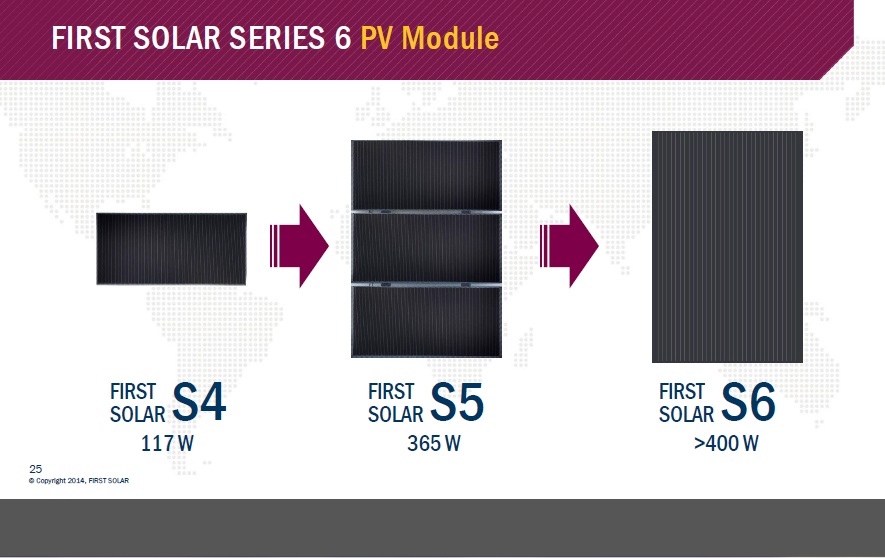 Widmar went further by noting that current module ASP's were at such a level that required margins on its Series 4 and yet to be ramped Series 5 modules were in doubt.
The company noted that it was still expecting to be able to achieve around 20% margins on module sales as part of the strategy and cost reviews.
As a result, management had set up a team (4 to 6 weeks ago) to look at the economic and competitive position of its Series 5 module to establish whether further production cost savings were possible and market viable given the current ASP environment.
The company also established a team to evaluate whether a migration to its large-area single substrate module format earlier than planned would be its best means to remain competitive.
"Our long-term plan has always been to have the two products coexist. But given the current market environment, we're re-evaluating that and we're trying to make a decision that if we can get the cost profile of Series 5 down to a level, which we think it needs to be to give us acceptable margins on the sale of that product then we'll move forward with that transition.
If we're not able to do that, we may look to move straight into a Series 6 platform with a view of trying to put one product forward as quickly as possible. We have been having ongoing discussions with our internal teams," added Widmar.
Ahead of First Solar's latest earnings call, PV Tech reported on First Solar's potential competitive advantage for its Series 6 platform.
However, PV Tech expects the key focus of its Series 5 module analysis is to identify material and production cost reductions surrounding the assembly of the three Series 4 modules into the single unit, which First Solar was planning to do in-house.
The other major focus would be with its outsourced single-axis tracker suppliers, such as NEXTracker, recently acquired by Flextronics International (Flex). NEXTracker is believed to have been instrumental in designing a single-axis tracker system for First Solar that could accommodate multiple module rows to improve area density for ground-mount PV power plants, further lowering the LCOE.
Such is the severity of market conditions First Solar is not planning to deliberate long on these critical decisions and said that it would hold another conference call on November 16 to relay findings and its product transition strategy going forward.