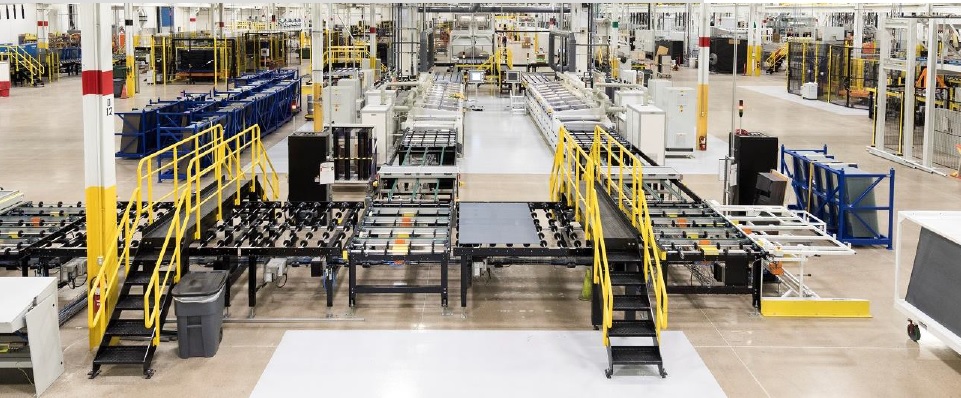 The major manufacturing transition by First Solar to its large-area Series 6 CdTe thin-film module format is well underway and, going by recent management commentary in its fourth quarter 2017 conference call with financial analysts, has increased its tempo slightly, not least due to updated spending plans for the second time in a few months.
The company had entered 2017 with capex guided to be in the range of US$525 million to US$625 million, but ended the year with capex of US$514.4 million. There were a lot of moving parts in relation to the Series 6 early phase transition, but principally holding back on planned equipment spending as the company retained more Series 4 production in Malaysia to meet increased demand on the back of the pending US Section 201 trade case outcome was behind the lower than guided spending.
However, with capex topping US$300 million in the first nine months of 2017, running at around US$100 million per quarter, spending signficiantly increased in the fourth quarter.
Capex in the fourth quarter of 2017 reached almost US$200 million (US$199.3 million), as building the second fab in Vietnam (Vietnam S6 Factory 2) started (with a name plate capacity of 1,200MW), coupled the completion of facilities at Vietnam S6 Factory 1.
First Solar also completed the plant fit-up at Malaysia S6 Factory 2, as well as around 50% of 'front-end' equipment installation, accounting for around 25% of total tool installs required for the 1,200MW nameplate capacity of the facility.
The quarter was also a major milestone in the delivery and majority completion of tool install at its Perrysburg, Ohio facility (with a nameplate capacity of 600MW) and first Series 6 modules produced. It should also be noted that this was slightly ahead of schedule and caused a problem for First Solar's CTO.
The Ohio Series 6 Factory 1 is also the principle hub for technology and productivity development and copy smart migration to all S6 factories, following the tried and tested strategy from the Series 4 factory expansions (Germany and Malaysia).
At First Solar's 2017 Analyst Day, management noted that capex in 2017 dedicated to the Series 6 migration was approximately US$450 million of total capex for 2017 of US$514.4 million.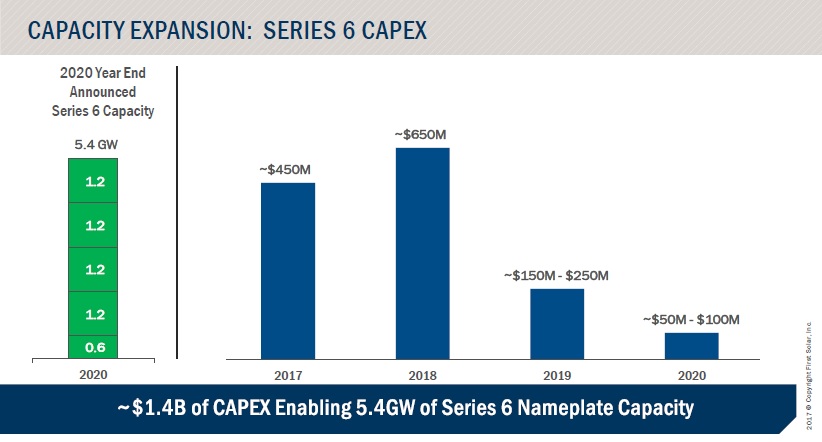 Manufacturing migration in 2018
As outlined in its 2017 Analyst Day event, 2018 was expected to be the peak of capex intensity for the Series 6 transition. However, initial 2018 capex guidance dedicated to Series 6 was put at US$650 million, while total 2018 capex was guided at US$650 million to US$700 million.
In its fourth quarter earnings call, First Solar increased total capex guidance to in the range of US$700 million to US$800 million.
Management noted that the capex had been increased by around $50 million to reflect Series 6 revised timings expenditures. Overall Series 6 dedicated spending is still expected to be in the region of US$1.2 billion over a two (2017-2018) year period.
Series 6 production
In the most recent earnings call, First Solar highlighted that Ohio S6 Factory 1 was continuing to undertake testing and module evaluation ahead of the next major milestone being the start of volume manufacturing beginning in the second quarter of 2018.
At Malaysia S6 Factory 1, management noted that after initial tools were delivered in October, 2017, approximately 90% of the front-end tools had been installed. The target is to have first modules produced in the second quarter of 2018.
The facility is therefore remaining on track to complete testing and qualification to copy smart metrics from the Ohio facility in the third quarter of 2018, followed by volume production start in the same quarter.
At Vietnam S6 Factory 1, First Solar noted that the facility was ready for tool install and the first front-end equipment was delivered in January. Schedules have not changed for the facility to operational with first modules produced in the third quarter of 2018 and qualification completed and volume production started in the fourth quarter of 2018.
First Solar also noted that Vietnam S6 Factory 2 construction was ahead of schedule, without being specific but initial tool install plans remain to be in the third quarter of 2018 and volume production plans remain to be on track for the second quarter of 2019. The company has already started its recruitment drive for Vietnam S6 Factory 2.
A small twist to First Solar's overall module production capacity plans in 2018 was the restart of two mothballed Series 4 production lines at the Ohio facilities to meet increased demand. The lines are expected to account for around 180MW of extra Series 4 module production in 2018. The company is having to recruit new staff to operate the lines.
As a result, 2018 module production is expected to reach around 3.1GW.
No updates were given on Malaysia S6 Factory 2, which continues to run a full capacity producing Series 4 modules.
Although Series 6 capex looks locked in as planned for 2018, guidance given at the 2017 Analyst Day event for 2019 through 2020 has quickly become less assured.
Guidance had given the impression that with the 2017 to 2018 spending topping US$1.2 billion, capex would significantly decline in 2019 (US$150 million to US$250 million) and decline further (US$50 million to US$100 million) in 2020.
However, as PV Tech reported, First Solar has not ruled out the possibility of adding new Series 6 factories, due to the record strong bookings in 2017 that totalled 7.7GW and included 2.6GW of forward booked Series 6 modules.
R&D expenditure decline
With the reporting of fourth quarter 2017 financial results, First Solar also released its 2017 Annual Report, which highlighted that its spending on R&D activities has declined significantly from the previous year.
First Solar reported 2017 R&D expenditure of US$88.6 million, down from US$124.7 million in 2016, a 29% decline.
In the annual filing, First Solar said:
Research and development expense in 2017 decreased compared to 2016 primarily due to lower costs for third-party contracted services, reduced material and module testing costs, the termination of certain R&D programs for legacy module technologies, and lower employee compensation expense resulting from reductions to our R&D headcount as part of various restructuring activities.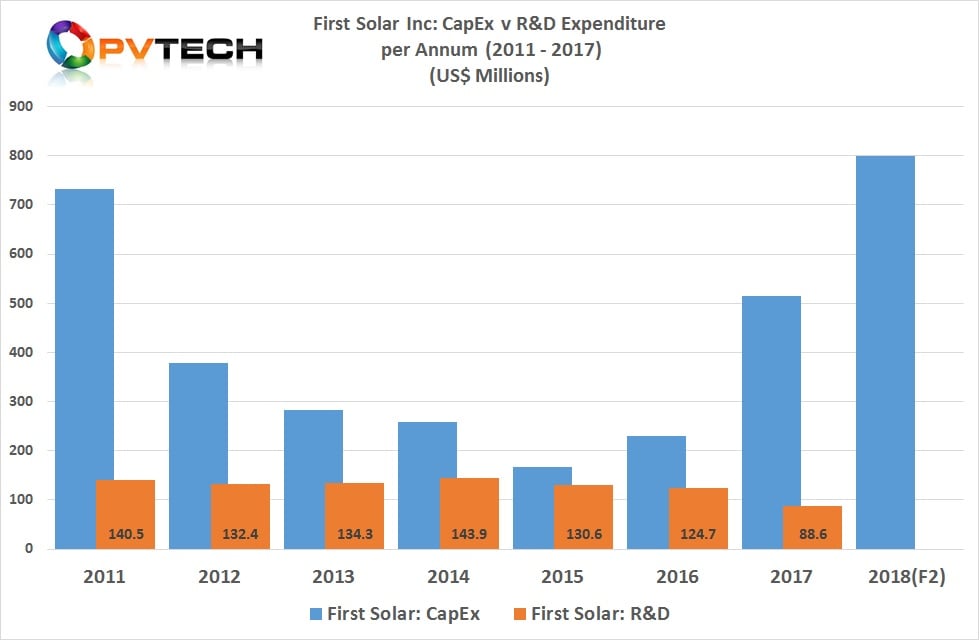 It should be noted that the company does not breakout R&D headcount figures, specifically.
First Solar reported R&D expenditure in 2017 that is at the lowest level since 2009, according to PV Tech's annual analysis of R&D spending and notable as it has not been below more than US$100 million per annum since 2011.

PV Tech recently reported that US-headquartered high-efficiency N-type mono Interdigitated Back Contact (IBC) cell and module producer SunPower Corp had undertaken a 29% reduction in its R&D workforce to 282 as it reduced R&D expenditure to US$80.7 million in 2017, compared to US$116.1 million in 2016.
Although the reductions in spending by SunPower and First Solar are significant they have both been the highest spenders over the last ten years.
However, several China-based 'Silicon Module Super League' (SMSL) members have been aggressively ramping R&D expenditure in the last few years and the gap between the two leading spenders could be significantly reduced or even surpassed when some of the SMSL's report 2017 financial results.
It should be noted that First Solar tends not to provide R&D expenditure guidance, although it has historically provided quarterly R&D spending figures. The issuance of first quarter 2018 financial results next quarter should provide some insight into R&D spending trends at the company for this year.