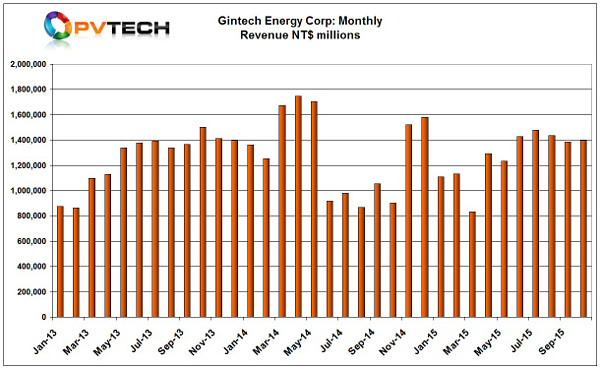 Major merchant solar cell producer Gintech Energy Corp reported a 0.6% increase in sales for the month of October 2015.
Monthly sales over the last few quarters are now trending in line with historical patterns in 2013.
However, Gintech should start shipping solar cells from its 350MW cell production plant in Thailand in the first quarter of 2016, easing capacity constraints.
Gintech reported October 2015 sales of NT$1,395 million (US$42.6 million), compared to September sales of NT$1,387 million (US$42.5 million).
Gintech recently signed a module supply agreement with Martifer Solar's distribution channel subsidiary MPRIME, via its JV module manufacturing business, Gintung.
The company expects the supply agreement will boost module sales in Germany, UK, France, Italy and Portugal in 2016 by around 200MW, up from around 100MW in Europe in 2015.