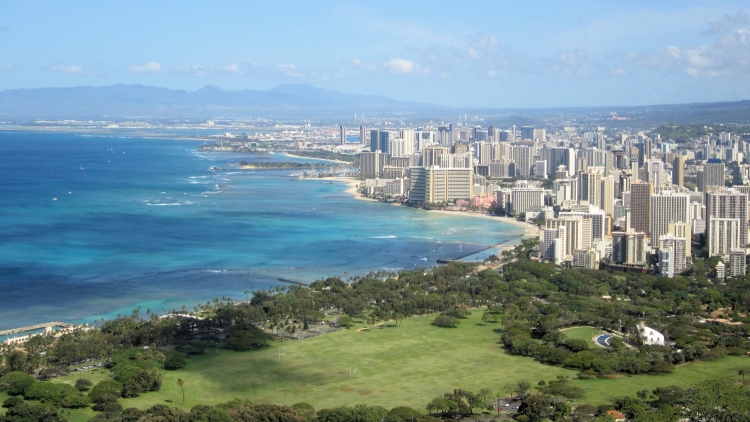 Hawaiian Electric Companies (HECO) are planning to hit the Islands' goal for 100% renewables by 2045 five years ahead of schedule under a new Power Supply Improvement Plan (PSIP).
The plan calls for an additional 360MW of utility-scale solar PV, 157MW of wind and 115MW from demand response by 2040. In addition, the accelerated schedule to meet the ambitious target means HECO aims to provide 48% renewable power by 2020.
Importantly, the Plan seeks to meet the 100% renewable energy target without the use of liquefied natural gas (LNG). Back in May, HECO had requested that the Hawaii Public Utilities Commission (PUC) review and approve a proposed contract with Fortis Hawaii Energy to import LNG for electricity generation. Plans were dropped after the PUC rejected NextEra Energy's US$4.3 billion bid to purchase the utiilty group.
Instead, HECO's new plan intends to resource demand management, energy storage and biofuels instead of the LNG initially proposed, which should allow for Hawaii meeting its goal faster.
Rooftop solar is a key component in the accelerated plan, with an estimated 165,000 home solar systems forecasted to be connected to the grid by 2030, more than doubling the current 79,000 systems installed.
Under the PSIP the renewable portfolio standard is estimated to be at least 72% by 2030. Under those projections, Molokai could reach 100% renewables by 2020, with Hawaii Island reaching 80% and Maui 63% and Oahu 40% by the same year, using solar, wind, biofuels and storage.
In the aggregate, the Plan seeks to achieve 52% of clean energy by 2021 by adding 326MW of rooftop solar, 31MW of feed-in tariff (FiT) solar generation in addition to the utility-scale contributions aforementioned.
To get the ball rolling, the utility has recently issued a request for information (RFI) to start the development conversation with developers.