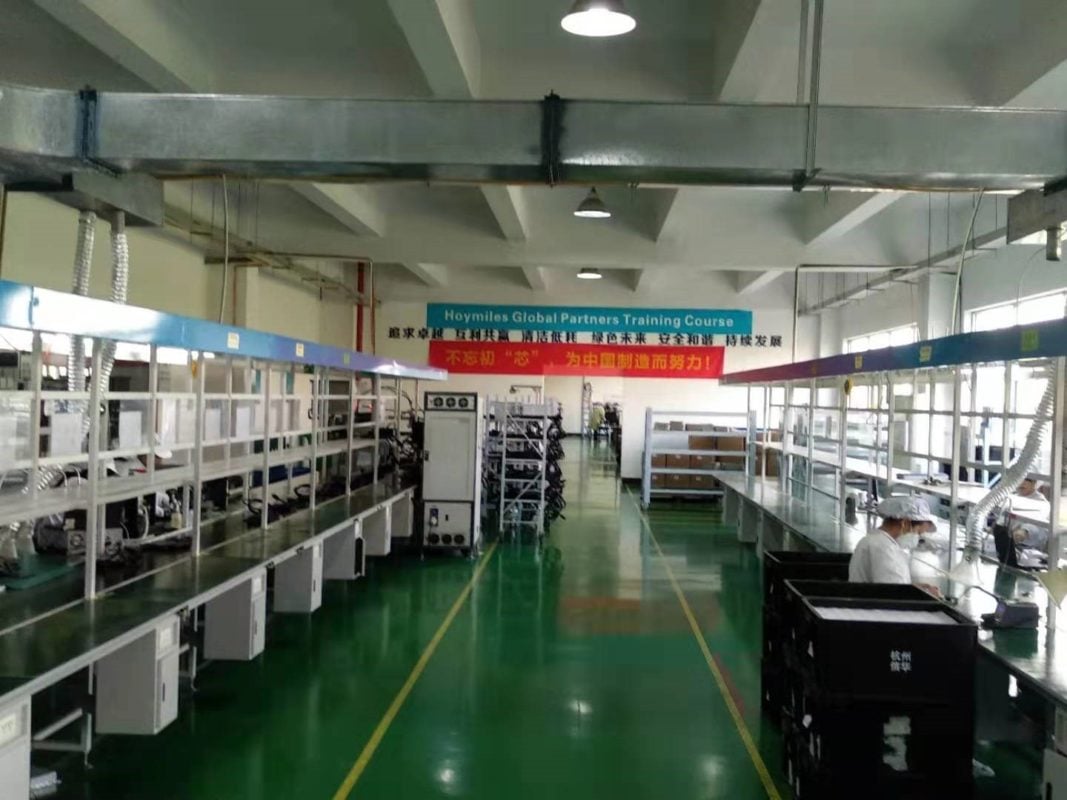 Hoymiles plans to double microinverter sales in the space of a year via an expansion campaign off the back of the release of its new HM-1000, HM-1200 and HM-1500 products, PV Tech has learned.
The microinverter specialist will set up new subsidiaries and tap into its R&D roots to push annual sales from a 150,000 target this year to 300,000 throughout 2020, general manager Dr. Yang Bo told this publication during a recent visit of the firm's headquarters in Hangzhou, China.
According to Yang, Hoymiles – founded in 2012 as a Zheijang University spin-off – has managed to double turnover every year since 2016. Of its 150,000 goal for 2019, the firm has already sold some 120,000 microinverters at the latest count this year, the general manager added.
Hoymiles, Yang explained, has so far supplied its microinverters to both residential (80% of all sales) and C&I (20%) solar projects. The plan is to now boost its current manpower in Europe and America, building on existing warehouses in the Netherlands and a sales-focused office in Canada.
"Europe and North America are both very important markets to Hoymiles. We hope to have new, dedicated subsidiaries very soon across both regions," said the general manager, as he announced new offices will also be added in Brazil and Australia in the coming months.
"The obligation in America and Australia for solar projects to use reactive microinverters means they will be big expansion targets for our HM series, which come with a highly active power function," Yang said. "California's new solar mandate for buildings makes it an important market for us."
As Yang explained, the sales target will be helped along by the support of Hoymiles' parent company – Hangkai Group – and a boost to production capacity, currently sitting at 500,000 units per year. In China, the firm will add second (20,000m2) and third (50,000m2) factories in the coming months.
HM series launch and data offering upgrade in 2019
The talk around Hoymiles' solar ambitions was followed by a tour of its microinverter assembly line in Hangzhou. Uniform-clad factory staff inserted DC/AC cabling into microinverter cases, with others later sealing, testing and packaging the products for shipment as this publication looked on.
Among the microinverters hitting factory shelves that day were MI-1200 units. Launched last year, the range has been marketed as the world's first single-phase microinverter able to service four panels at once. With DC input voltage of only 16-60V, MI-1200 remains Hoymiles' best-selling product today.
The firm is now seeking similar success with its new HM-1000, HM-1200, HM-1500 series, released over 2019 and showcased before an international audience at the recent Solar Power International conference in Salt Lake City.
According to Hoymiles, the HM trio retains MI-1200's 16-60V DC voltage range and all boast CEC-weighted efficiency levels of 96.5%. The firm, general manager Yang explained, will now launch a global sales push to promote the HM-1500 – catering to 300-470W PV modules – in particular.
"For HM-1500, we'll be targeting Australia and the US in particular," Yang said. Hoymiles has no existing plans to build factories overseas to dodge the US' Section 201 levies; its inverters are so cost-efficient they will stay competitive even after trade tariffs are applied, the general manager claimed.
Hoymiles has also chosen this year to upgrade its data offering. November will see the market launch of DTU-PRO, a device solar players can pair with the HM series to monitor microinverter status. Mobile data access will be enabled by the release of an app later this year.
The firm is currently also in the midst of expanding its business scope from solar-only to solar-plus-storage projects. At the time of writing, research is underway for Hoymiles to develop hybrid inverters, as well as applications for solar micro-grids.
R&D and local touch to outrun microinverter rivals
Only time can tell whether Hoymiles' 300,000-units-a-year target will materialise. For now, the firm is confident the appetite for microinverters' strengths – around 10-30% higher efficiency, fire-safer PV modules thanks to lower DC voltage – will boost demand versus central and string alternatives.
The microinverter specialist is not alone in its efforts to carve out a name in the segment, however.
Asked how Hoymiles will keep up with its rivals, Yang pointed at the firm's R&D roots. The firm was founded by three post-doctoral students at the National Key Power Electronics Laboratory – based at Zhejiang University – and has since scored 10 national patents and various science awards.
The second strategic pillar will be localised service, the general manager said, adding: "That's why we now want to set up dedicated subsidiaries, to make sure we go local with our technical support."
The Hangzhou-based player has typically relied on European rather than Asian clients; growth around Eastern Europe mean sales to the former outweigh those to the latter by a factor of 2.5. However, Hoymiles now believes business could improve closer to its home base of China.
"The Chinese market has slowed down this year because of subsidy issues but next year we expect a lot from Chinese residential solar," Yang predicted. "As we already are the number one [microinverter] supplier here, we're very confident about our opportunities in the market."
Beyond China's borders, India will remain the firm's top – but not the only – target for Asian business going forward. Asked to identify other of its target solar markets in the region, Yang listed Thailand, Vietnam and Indonesia.