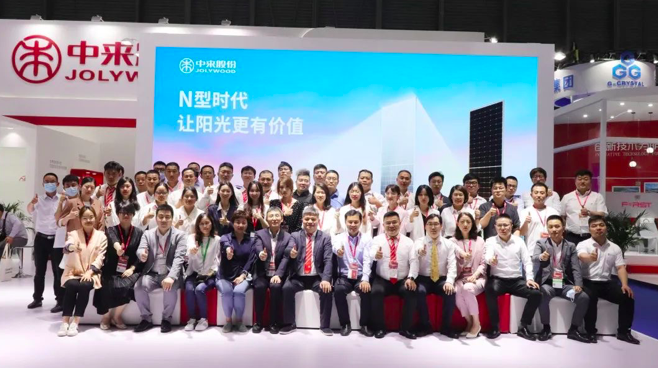 Adding to its product portfolio, Jolywood has launched its new Niwa Max ultra-high power module, based on 210 large-size silicon wafers, to satisfy increasing global demand for products with high efficiency and reliability.
The power of the module can be as high as 700W, while it features the advantages of high power, high conversion rate, high bifaciality, low temperature coefficient, low degradation – and no LeTID or LID.
Jolywood has been committed to N-type TOPCon for several years, and has mastered the most advanced technology in this area.
At SNEC 2021, Lin Jianwei, Jolywood's Chairman, stated that the company will continue to devote itself to the research and development, mass production and application of N-type TOPCon technology, and will bring value to customers through technological progress and cost reduction. "We will continue to contribute to the realization of the carbon neutrality, emission peak goal," he continued.
Dr. Zhifeng Liu, the company's vice president, went on to introduce the new Niwa Max module, based on a new generation of J-TOPCon 2.0 technology.
"Niwa Max has a super cost-effective advantage in terms of electricity cost and investment income," he stated, adding that TOPCon will continue to be a hotspot in the market, leading the direction of the PV industry.
"We will continue to seize opportunities to develop new technologies and products," Liu added.
Looking at Niwa Max, it is clear that the launch of the new product will guarantee low LCOE for customers, with Liu going on to say that Jolywood adheres to the road of advanced and high-efficiency solar technology industrialization.
"We hope the new module will bring great value to customers in the future and promote the early arrival of carbon neutrality and zero emissions," he continued.
Jolywood is the world's largest N-type bifacial solar cell and module manufacturer with a production capacity of 3.4GW, and it is also the world's largest backsheet manufacturer, with a 30% market share.
In addition to launching the new product at SNEC, the company also took the opportunity to sign a strategic cooperation agreement with the PowerChina HuaDong Engineering Co. to initiate comprehensive cooperation in the Indonesian PV market and to announce the establishment of a joint venture company in Indonesia with local organisations to build N-type solar cells and modules with an annual production capacity of 1GW.
Speaking of the cooperation, Liu Zhifeng commented "Having a local manufacturing base in Indonesia can not only provide products and services for the Indonesian domestic market, but also provide opportunities for entering the US PV market."
Jolywood was also able to announce TÜV Nord CB laboratory accreditation, licensing and certification during SNEC.
Xu Tingting, Senior Vice President of Global Renewable Energy at TÜV Nord and Dr. Liu were among those attending the ceremony.
During SNEC, Dr. Du Zheren, Jolywood's R&D Director, presented on the "Advantages and Applications of N-type TOPCon Technology." He introduced the J-TOPCon2.0 technology originally created by Jolywood, which has improved cell efficiency and enabled higher yield, thereby further reducing costs. "Low temperature coefficient, no LeTID and lower LID risk enables N-type TOPCon products to deliver higher cost performance and reliability," he highlighted as key features.
The N-type era has begun and Jolywood fully intends to remain at the forefront of developments to consolidate its leading position in the technology.