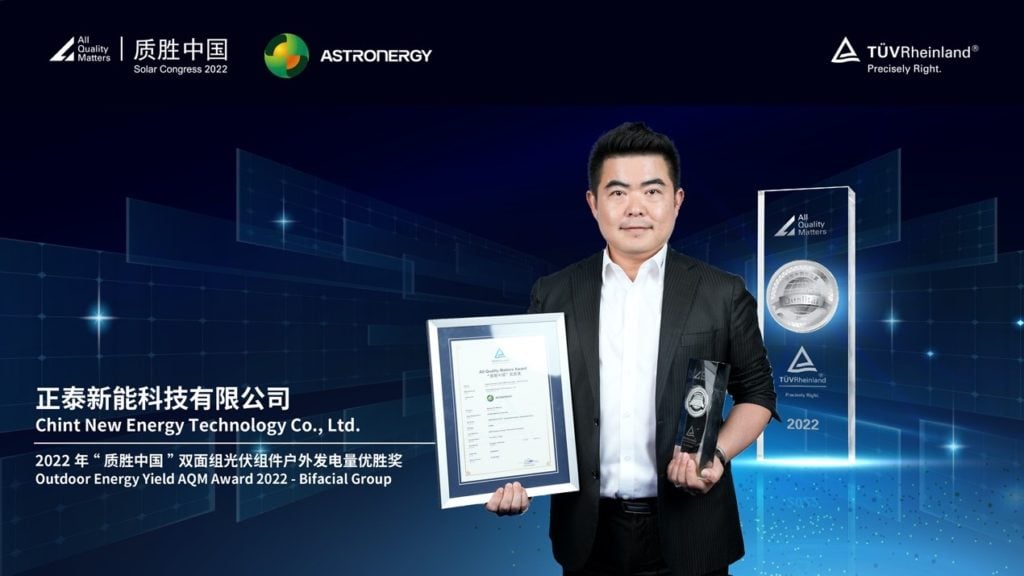 Astronergy has once again received recognition at the 2022 edition of TÜV Rheinland's "All Quality Matters" solar congress, with its ASTRO Series bifacial module winning the "Outdoor Energy Yield"award. It is the fifth AQM award the company has received since 2018.
Competing products in the outdoor energy yield category are randomly selected from 1,000 modules in mass production and installed at TÜV Rheinland's test site in the German city of Cologne. Power generation performance is evaluated through laboratory and outdoor testing, with an energy efficiency ratio ranked according to the data collated. Outdoor testing during the 6-month period involved provides a 'real world' measurement of module performance in a practical application.
The ASTRO series bifacial module features high efficiency, power and reliability and can operate in extreme climatic conditions, including high altitude and salinity.
"TÜV Rheinland's rigorous testing has fully verified the quality and reliability of our products. Moving forward, Astronergy will continue to develop advanced technologies to provide its customers with more high-quality and high-efficiency products,"commented company vice president Haiyan Huang.