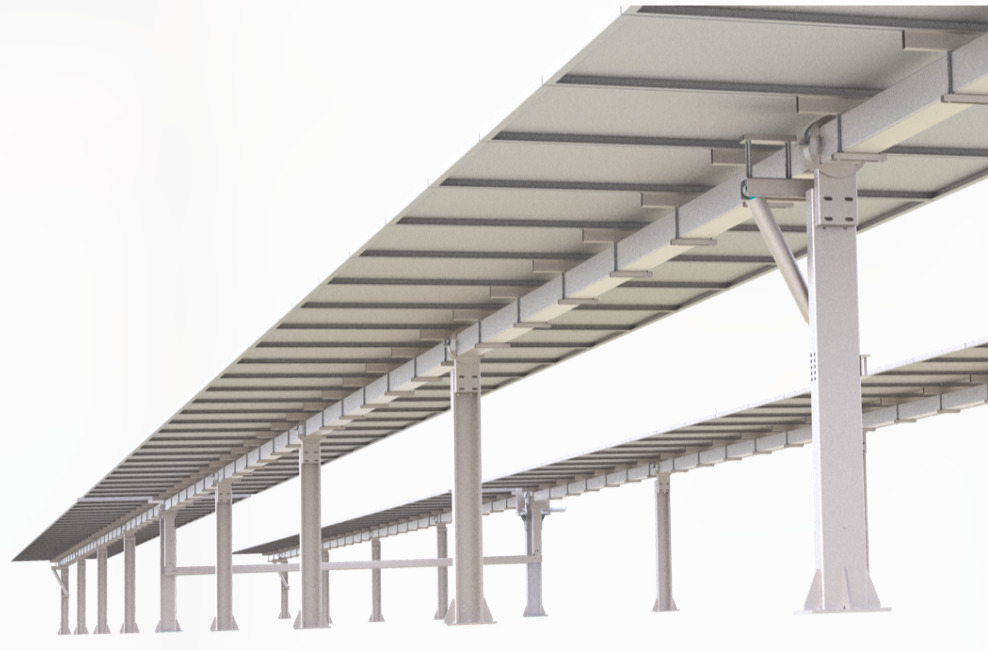 A tracking system is one of the most effective elements in enabling a PV power station to increase power generation. Compared with a traditional fixed mounting system, annual power generation by using a tracking system can increase by 15%-25%. Overseas markets have always been important for Chinese tracker companies, given that domestic trackers account for only around 10% of overall business. The reasons for this are as follows: on the one hand, a tracking system involves an increase in initial investment; on the other hand, the use of tracking systems in China is still not mature enough and owners have concerns regarding reliability.
Price is not the determining factor limiting the development of tracking systems in the view of Xiamen Grace Solar Technology Co.,Ltd, a company which has been present in the photovoltaic field for many years. More and more power station investors are studying carefully the income derived over the whole life cycle of a power station and are concluding that the increase in power generation brought by a tracking system far exceeds the cost of any additional initial investment. However, should the tracking system fail, any extra revenue will ultimately be absorbed, meaning that safety and reliability are the key considerations for any investor.
After in-depth analysis of the advantages and disadvantages of existing mainstream tracking systems, Grace Solar has launched a new product to meet market demand – the GS-Light Intelligent Linkage tracking system. Mr. Guirong Han, R&D director at Grace Solar, points out that the new system, which is between large linkage and independent drive, adopts a single-row two linkage design, driven by rotation. It uses not only astronomical algorithms and position sensing closed-loop control as its control algorithms, but also an AI intelligent algorithm to maximize power generation.
In an ordinary single-row single-axis tracking system, one single motor can drive 2 to 3 strings, while the single motor of the GS-Light Intelligent system can drive 4 to 6. Additionally, the system has a lower failure rate, with fewer electronic control systems and less drive equipment. After passing the RWDI wind tunnel test, Grace Solar further consolidated the dynamic stability of the tracking system under extreme wind load conditions by changing the aerodynamic characteristics of the structure and increasing the structural damping ratio, ensuring its safety. The company also incorporated a larger section and high-strength main beam, which provides increased rigidity and higher natural vibration frequency.
In addition to the precision of design, Grace Solar carries out strict quality control of its manufacturing processes. The pass rate of key components is controlled at 100%, and the control system is 100% tested before leaving the factory. "These measures ensure the high quality of the product, and its annual utilization efficiency is over 98%. We also provide on-site guidance and commissioning manuals during the installation stage, as well as consulting, operational and maintenance services during the whole life cycle," continued Mr Han.
In terms of increasing power generation, Grace Solar adjusts the running status of the tracker according to different climatic conditions through an AI intelligent algorithm. Calculations indicate that the overall power generation of a power station can be increased by 1% via a combination of a traditional tracking system with AI intelligent algorithms, and the power generation advantage is more obvious in specific scenarios, such as Agricultural and Aquacultural PV plants.
Considering the needs of different customers, the GS-Light Intelligent system focuses on the three material combinations of hot-dip galvanized steel, aluminium-magnesium-zinc plating and aluminium profiling, according to the different positions and stress states of the tracker. This reduces the overall cost of the system while ensuring its safety.
According to Mr. Han, the system is currently undergoing final mass production qualification, production equipment debugging and certification and is expected to achieve mass production in early 2021, with a planned annual production capacity of 2GW. From a global perspective, the demand for tracking systems in mature markets such as the United States, Spain, and Australia continues to be strong and is also growing in emerging markets such as Brazil, Mexico, Chile and Argentina, which are also key markets for Grace Solar. There have so far been orders for around 300MW of the GS-Light Intelligent system, with 1GW already in the preliminary design stage.
As far as the domestic market in China is concerned, while the current market share for tracking systems is modest, the arrival of grid parity for PV and the use of bifacial and high-power modules will certainly have the effect of driving this upwards. It is estimated that in 2021 the market share for bifacial modules will reach about 60%, with the proportion of 182mm/210mm large-size silicon wafers increasing to over 30%. The GS-Light system can match with all high-power large-size modules, so demand is likely to be strong.
A safe, reliable and efficient tracking system requires a high level of technical support from design to quality control, which further underpins Grace Solar's philosophy, the company's investment in R&D over recent years being about 5% of revenue. Grace Solar can count on a team of highly sophisticated engineers, divided into different areas according to the technical direction of fixed mounting, tracking and floating systems.
With regard to the likely distribution between domestic and overseas markets in the post-pandemic period, Mr. Han commented, "initially, we will actively respond to the needs of the domestic market, while simultaneously monitoring trends overseas. In due course, we will increase product promotion efforts globally, and strive to promote efficient and reliable tracker support for an increasing number of photovoltaic projects, contributing to global PV achieving grid parity."