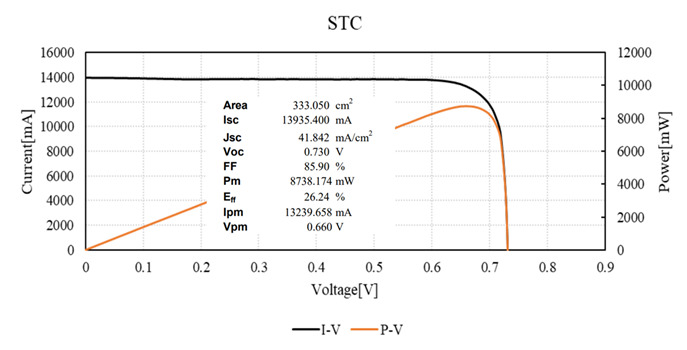 DAS Solar has announced that its M10 size N-type TOPCon cell has achieved an efficiency of 26.24%, with an open circuit voltage of 730mV, the latter setting a new world record for TOPCon cells. The results for the company's cell, based on its self-developed TOPCon 3.0 plus technology, were certified by the quality testing centre for solar PV and wind power systems at the Chinese Academy of Sciences Institute of Electrical Engineering. 
Dr. Song Dengyuan, DAS Solar CTO, senior contributor to China's National Key R&D Program for Renewable Energy and Hydrogen Technology and chairman of the SEMI China Standards and Technology Committee, stated that the previous highest reported open-circuit voltage for N-type TOPCon cells with a double-sided metal electrode structure was 724.9mV, as reported by Germany's Fraunhofer Institute for Solar Energy Systems. The achievement of a figure as high as 730mV marks a significant breakthrough in the development of passivation technologies and is of great importance for the ongoing improvement of TOPCon cell efficiency.
DAS Solar's TOPCon 3.0 Puls cell is based on its independently developed i-SE, ultra-thin polycrystalline silicon and micro-doped ut-PolySi technologies. The company has also successfully developed a new type of emitter layer surface passivation technology, called mt-Pass, which upgrades its N-type technology to TOPCon3.0 plus. This mt-Pass technology significantly reduces the emitter's recombination current, which brings the passivation effect close to the backside SiO2/PolySi passivation technology.
TOPCon 4.0 technology, based on high carrier selective materials and novel cell architecture, is currently under development by the company and is forecast to further improve cell conversion efficiency.