Tiger Pro high-efficiency modules have been selected for a growing number of projects around the globe, proving that the benefits provided in terms of system stability and cost-efficiency have been recognized by our customers. Apart from selecting the best module when designing a PV power plant, cabling is also an indispensable component and cable selection is a crucial step in order to achieve lower LCOE. For this reason, the following factors should be considered with particular attention when choosing cables:
The cable should be able to pass operating and short circuit currents safely.
The cable should be sized appropriately to ensure that losses produced are within acceptable limits, and the most economic balance between capital cost and operating cost (loss) is maintained according to the LCOE calculation formula.
The cable should be sized to avoid voltage drop outside statutory limits and terminal equipment performance.
| | | | |
| --- | --- | --- | --- |
| | Tiger Pro 72p | Larger Size Module 55p | Larger Size Module 60p |
| Isc | 13.94 A | 18.47 A | 18.57 A |

Table 1. Current comparison of different modules

The current of the module is closely related to system power. According to the formula below, when the operating current of the module increases, the cable loss on the left side of the equation (the pressure drop of cable strings) will also increase, affecting the system's power output and reducing economic benefits. In Table 2, the same cable is selected with the aim of comparing the cable loss of a JinkoSolar Tiger Pro module with other larger size modules under different system design conditions.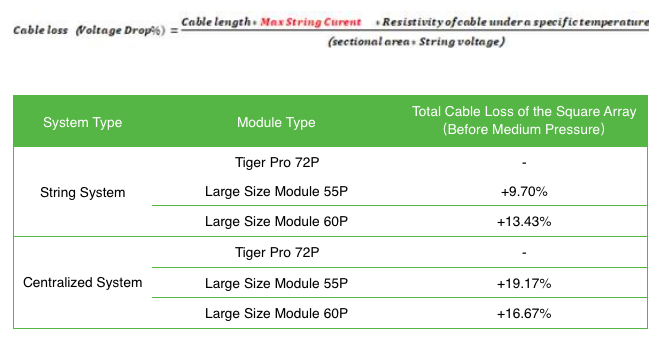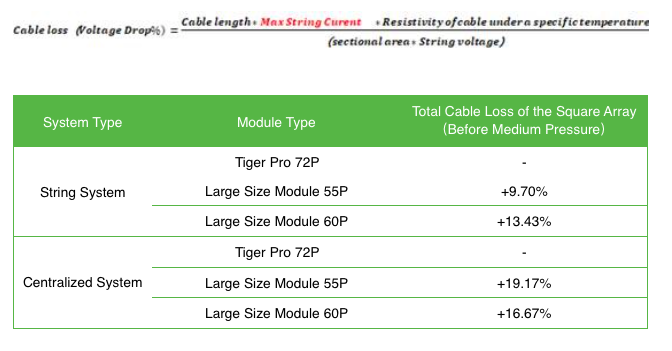 As shown in Table 2, according to data based on a JinkoSolar Tiger Pro 72P module, the total cable loss of the larger size modules in the PV array is at least 9% greater in both types of system.
To reduce cable loss, larger size modules need to further increase the cable cross-sectional area. As shown in Table 3, cables are selected respectively (4mm2 and 6mm2) for JinkoSolar Tiger Pro modules and large size modules in order to keep the loss at the same level. Based on this, the total cable price per watt for different modules with different system designs are compared.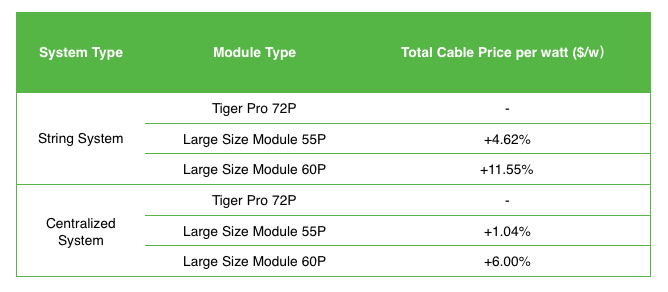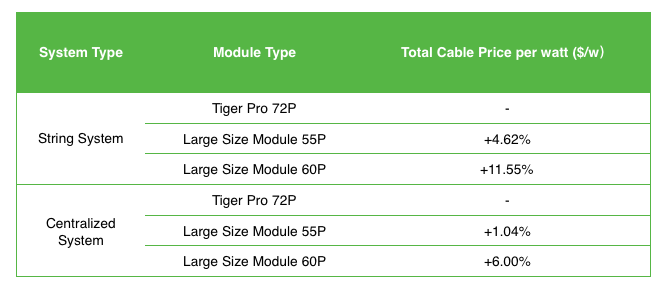 Table 3 shows that, with the same cable loss, the total cable price per watt for larger size modules is higher than that for Tiger Pro 72P modules in both system types. For the string system in particular, cable cost accounts for a large proportion of overall investment, which will directly lead to a significant increase in total system cost.
Tiger Pro high efficiency modules are designed to be compatible with the best cable selection, delivering lower cable loss to ensure stable system operation and lower LCOE.