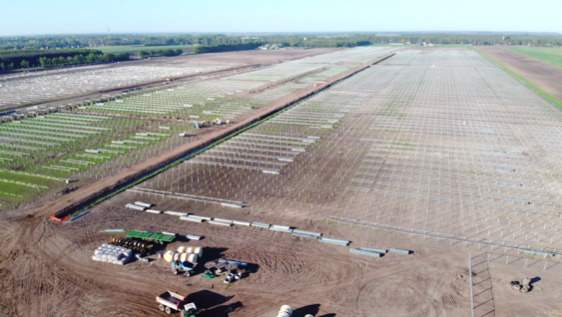 Construction of the 101 MWp Stadskanaal Solar Park started in February 2020, and its first panels have now been installed. The park will be connected to TenneT's high voltage grid network at Meeden and is scheduled to commence full operations in November 2020. In parallel, Chint has started construction of the Buinerveen Solar Park in May – this 45 MWp park will connect to Stadskanaal and is also scheduled to commence full operations in November.
Chint Solar will install approximately 245.000 solar panels on 83 hectares of land at Stadskanaal and approximately 110.000 panels on 40 hectares at Buinerveen. The parks will be officially opened with a festive event early next year and, combined, will supply at least 45.000 households with renewable electricity.
Oliver Schweininger (Managing Director, Chint Solar Europe): "Along with the Midden-Groningen Solar Park (103 MWp), Stadskanaal and Buinerveen are further landmark projects in the Netherlands and will contribute significantly to the energy transition. The combined grid connection is unique and reduces cabling work. We look forward to completing both projects in the coming months."
At Stadskanaal, the construction of fences, cable-laying and installation of panel mounting frames is in full progress, and construction of the on-site substation for grid connection has also commenced. Following completion of the solar park, a biodiversity area will be developed.
At Buinerveen, construction of an earthen bund around the site has been completed, ensuring that any view of the park and site is significantly reduced for the local population. The location will now be further prepared for construction and delivery of materials will commence in May 2020. As for Stadskanaal, a biodiversity area will be developed post-construction at Buinerveen. This area is 2.5 hectares in total.