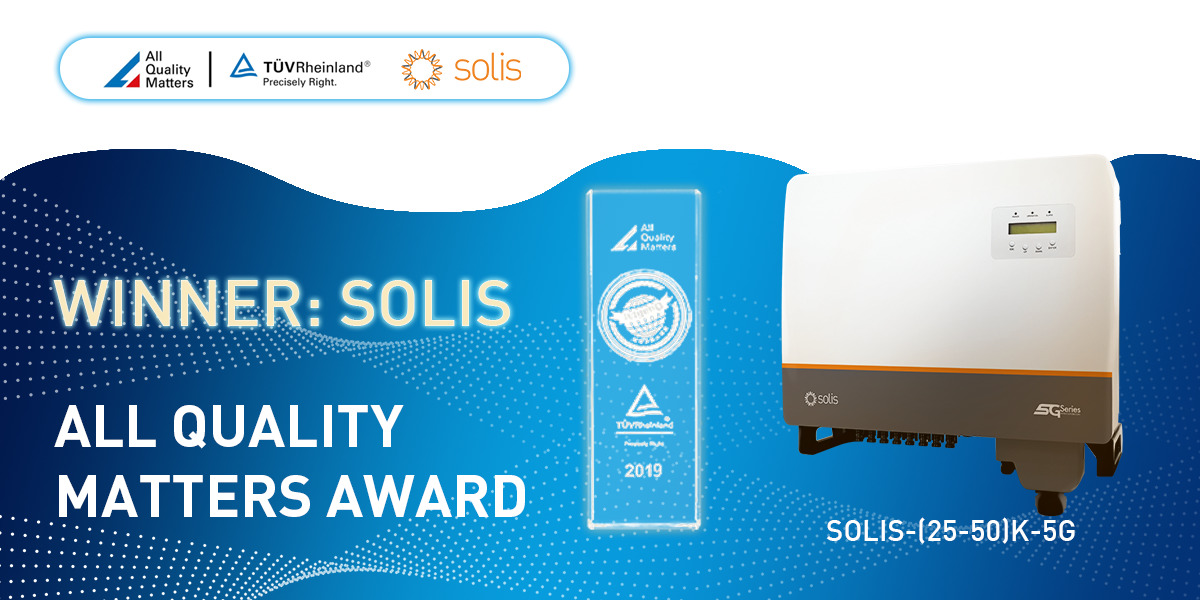 On June 30th, 2020, the annual "All Quality Matters" Solar Congress Award Ceremony, organized by TÜV Rheinland, took place in Suzhou, Jiangsu. Ginlong Solis was honoured to receive TÜV Rheinland's "All Quality Matters" award for its Solis-(25-50)K-5G commercial inverter, in recognition of its outstanding product quality in 2020.
"All Quality Matters" is a ceremony organized by TÜV Rheinland at which results for the efficiency of "PV Inverters for Commercial Use (50kW)" are published. This measurement is designed to verify the main indicators affecting power generation of a photovoltaic system through long-term rigorous test data records of an inverter, which have been recognized and supported by industry experts, authorities, owners and manufacturers.
TÜV Rheinland announced that the results of testing of the Solis-(25-50)K-5G inverter confirmed its stable input capability, EU efficiency, power quality, output capability and thermal stability.
The "All Quality Matters" Solar Congress has become a platform for PV industry-wide exchanges, bringing together more than 400 representatives, experts and scholars from the industry supply chain, focusing on the PV revolution both in Asia-Pacific and the wider global economies. Notable figures were invited to provide their interpretations on the existing status and development trends of the global PV market. They gave introductions to the opportunities and challenges faced in China, Australia, Japan, the Middle East and other PV markets, and shared their insights on cutting-edge technological innovations, trends in standard certification and best business practices, providing guidance for PV leaders in promoting the vigorous development of the photovoltaic industry.
Over the years, one of the strengths of Solis has been the high quality of its commercial inverters, especially Solis-(25-50)K-5G, which enjoys the following advantages:
Higher efficiency and power generation
• DC input current 13A DC/AC ratio 1.5
• Wider MPPT voltage range, low start-up voltage and 4 MPPT, increasing efficiency and decreasing losses
• Volt-watt working mode and integrated anti-PID function
O&M advantages for cost-effective fault monitoring
• Intelligent string monitoring IV curve scan
• Export power management, remote-control technology and DC reverse alarm function
• Current leakage suppression technology and surge protection reduces the likelihood of false alarms
"We thank TÜV Rheinland for this award to Ginlong (Solis), this is the biggest recognition and praise for our technical innovation. Our Solis (25-50)K-5G three phase series string inverter adopts 4 MPPT design to provide a more flexible configuration scheme with a smaller environmental impact rate and higher generation efficiency. For many years, Solis has moved ahead hand in hand with TÜV Rheinland, upholding the mission of building a cooperation and exchange platform for the PV industry," said a Ginlong representative. "China's PV industry has successfully completed its upgrade from 'quantity' to 'quality,' and in a time of fair prices and even lower prices to come, we will still, as always, pursue the concept of 'quality'. Each of us will employ our respective advantages and contribute our wisdom and expertise to help the industry resolve obstacles and promote the innovation and advancement of PV technologies in China.