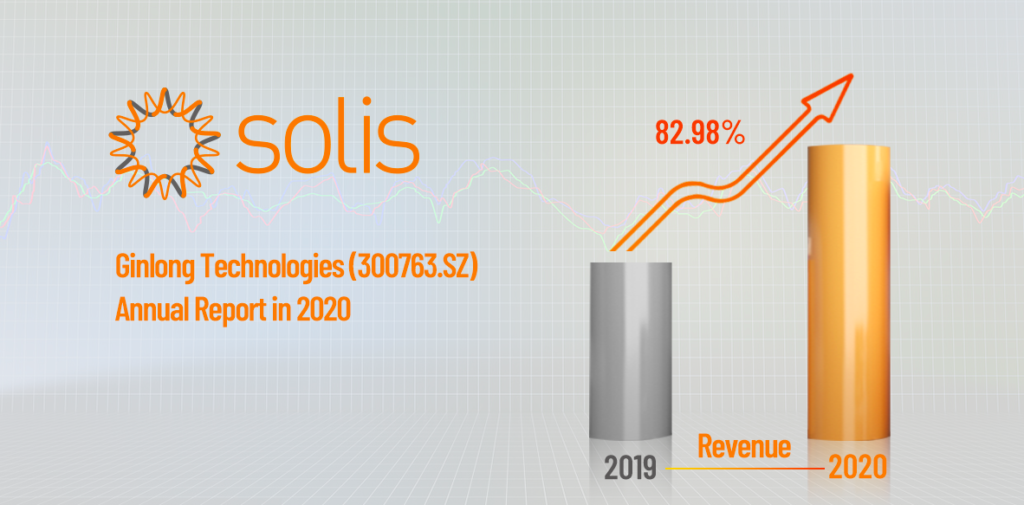 Ginlong Technologies (Solis) has published its 2020 annual report, showing that company revenue reached USD 321.6 million, an increase of 83% year-on-year. Net profit attributable to shareholders was USD 48.9 million, a year-on-year increase of 151%. Net profit after the deduction of extraordinary items was USD 43.1 million, +130% year-on-year, with net cash flow from operating activities USD 56.3 million, +154% on 2019.
The company plans to convert 7 of every 10 shares to all shareholders in the form of capital reserve.
Ginlong Solis operates in the field of distributed solar power generation, specializing in the research & development, production and sales and service of string inverters, core components within a distributed solar power generation system. Among the first batch of residential series grid connected inverter companies to enter the international market, the company has adhered to its global strategy of developing domestic and foreign markets in parallel. In 2020, the global solar photovoltaic market experienced a boom and Ginlong Solis implemented a strategy to pursue balanced development and technological innovation in order to promote continuous product iteration. Under these favourable conditions, the company witnessed rapid growth. Sales within the China domestic market reached USD 127.3 million, an increase of 93% year-on-year. The proceeds of sales in overseas markets, including Australia, USA and Europe, reached USD 194.4 million, an increase of 76% year-on-year.
According to the Q1 2021 report disclosed by the company, revenue reached USD 95.2 million, an increase of 119% year-on-year. Net profit attributable to shareholders of the listed company was USD 163,580.2, an increase of 81.29% on the same period in 2020. In addition to the rapid sales growth of string inverters, the company stated that sales of energy storage inverters also increased, reaching USD 5.6 million – almost the total annual sales achieved in 2020.
In 2020, the company increased its R&D investment, spending USD 14.5 million, an increase of 122% year-on-year, accelerating the development of new products. Within the reporting period, and responding to global market demand, the company launched the Solis-(215-255)K-EHV-5G ultra-high power 1500V inverter series, further enhancing its competitiveness in sectors such as utility scale and ground mount solar power plants.
The annual objective for 2021 is to implement the plan to increase annual output and finalize the build of a brand-new smart factory. This will deliver against efforts to raise the annual output target above 100% and transition from the existing man-machine manufacturing methods to automatic production and intelligent manufacturing.