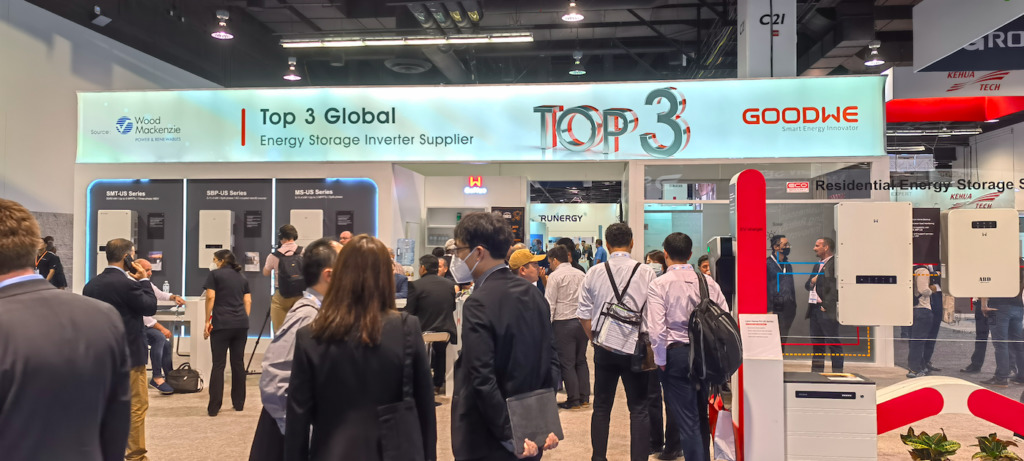 GoodWe exhibited at last week's RE+ event in Anaheim, California, showcasing its latest range of high-quality PV and storage solutions for the U.S. market.
Among the innovative products on display were the Lynx Home FH-US battery, hybrid inverters and AC-coupled retrofit solutions to add battery storage to existing solar installations.
The high-voltage Lynx battery is engineered to work seamlessly within GoodWe's 'EcoSmart Home' and is also compatible with the company's portfolio of residential solutions, offering a wide capacity range from 9.6 to 19.2 kWh per cluster to provide comprehensive energy storage options to meet the demanding requirements of self-consumption and backup power.
Among the energy storage inverters compatible with the Lynx series, the new GoodWe ES-US hybrid inverter distinguishes itself in providing optimized energy production without the need for traditional optimizers and, with multiple options for storage, including essential load and whole home backup, the product leads the way in next-generation home energy management. In addition, the SBP-US, an AC-coupled product, is designed to address multiple storage applications in North America, including microgrids.
Also on display at the show was the company's SMT-US series inverter, a superior solution for medium and large-scale commercial installations with a wide input operating voltage range of 180V-980V.
"The RE+ exhibition is an unparalleled opportunity for us to meet with customers throughout the solar industry and showcase our cutting-edge solutions,"commented Michael Mendik, GM/Country Manager for GoodWe USA and Canada. "Despite continuous expansion, the solar and storage markets in North America still have plenty of room to grow. By providing a comprehensive product portfolio to address the increasingly diverse demands of customers, GoodWe is well placed to continue its technology leadership in the market."