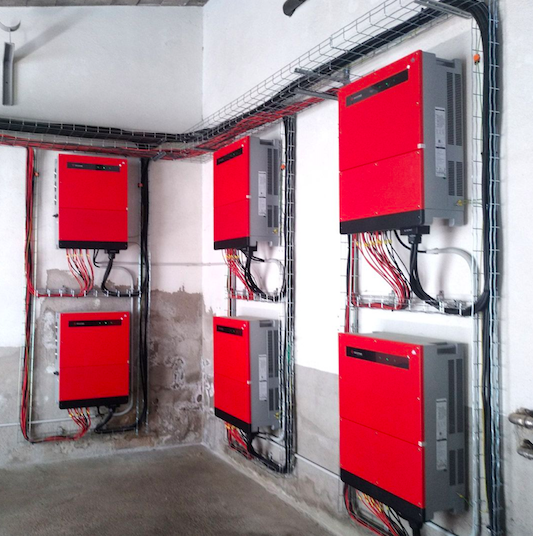 As a company specializing in the production and distribution of cooked, cured and Serrano ham for global markets, the Spanish company NOEL Alimentària seeks to diversify its business with "plant-based" product lines, leading to a conflict between environmental responsibility and crucial cost management. The company's processing plant requires a significant amount of energy to ensure fridge and climate chambers run smoothly to meet advanced ambient temperature control standards, the high energy usage affecting control of carbon emissions, making it a challenge to find a balance between cost and consumption.
To address the problem, NOEL has opted to introduce solar energy at one of its factories to effectively kill two birds with one stone.
GoodWe is now supporting the company's solar system, which aims to maximise self-consumption levels to reduce energy intake from the grid and increase business competitiveness with long term cost reduction. A 1.3MW rooftop solar system equipped with 14 units of GoodWe MT-80k inverters has been installed, which is expected to generate over 2,000MWh of electricity and eliminate more than 1,700 tons of CO2 annually.
GoodWe's MT series inverters are ideal for medium to large-size distribution projects, especially large-scale commercial roofs and farm plants. The range boasts advanced topology and innovative control technology to achieve a maximum efficiency of 99.0%, with full-load operation under 50 degrees Celsius while reaching 150% DC input oversizing, aimed at maximizing long-term returns and profitability for the system owner.
Factory operations require powerful cooling systems which often affect the quality of the internal grid, causing it to be unsteady when engines and pumps interact ON-OFF over 24 hours. The PV system and GoodWe's SEC1000 Smart Energy Controller not only increase the self-consumption ratio but also balance the internal grid.
"GoodWe is committed to helping its customers achieve their CO2 emission reduction targets. We know our energy solutions are the perfect match for reducing operational costs for the industry sector," commented Carlos Martínez, GoodWe's Sales Manager for Iberia.