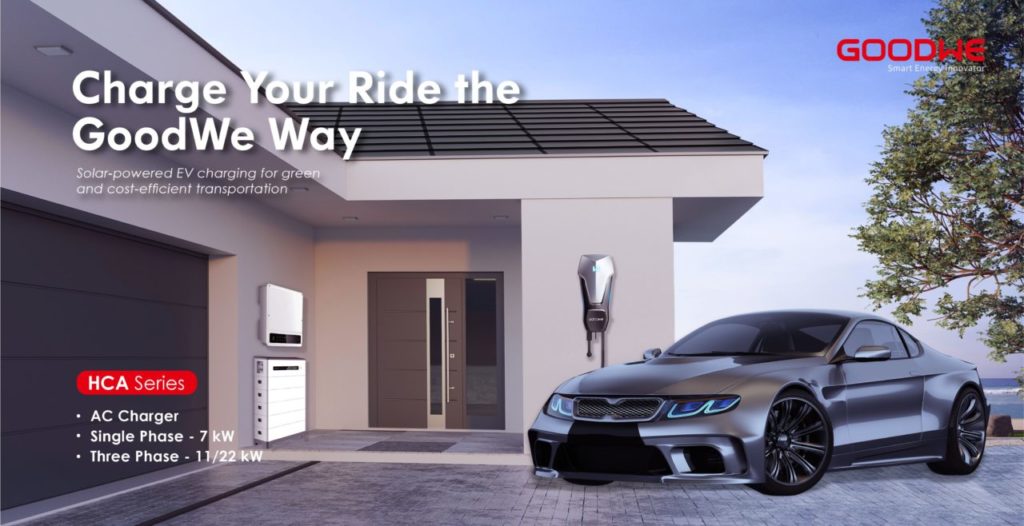 GoodWe has launched an AC wallbox with smart charging functionalities for electric vehicles (EVs). Compatible with all EV brands and GoodWe solar and hybrid inverters, the HCA Series charger enables higher solar self-consumption and lower energy costs for combined EV + PV systems. With this launch, GoodWe further strengthens its position as a one-stop provider of smart solutions for the residential PV market.
The GoodWe EV charger enables homeowners to charge their EVs with solar excess energy, either directly from the user's PV rooftop or via a battery storage system. The EV charger can be flexibly coupled with GoodWe solar inverters, or hybrid inverters and batteries, to form a full sun-to-car setup. The integrated system is managed via the GoodWe Smart Energy Management System (SEMS), which includes smart monitoring and charging features.
The charger comes in single-phase (7 kW) and three-phase (11/22 kW) variants. With its wall- and pole-mounted configurations, as well as IP66 dust- and water-resistant housing, the charger can be installed indoors or outdoors. Moreover, the charger offers integrated protection against overcurrent, overvoltage and short-circuiting.
"EVs have already taken significant market share in several European countries," commented Thomas Haering, Managing Director of GoodWe Europe. "Solar plus EV is a future-proof system that will contribute to both carbon neutrality and the energy transition. With GoodWe's HCA Series charger, homeowners can increase energy independence and reduce their energy costs and carbon footprint with ease."