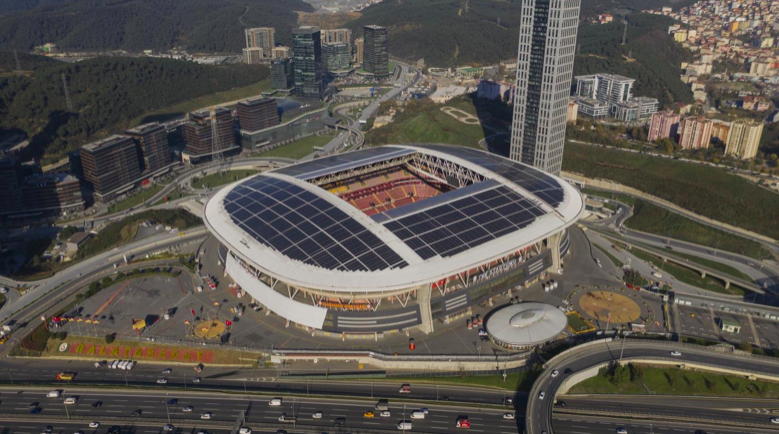 A solar power plant installed on the roof of Istanbul's Nef Stadium by Enerjisa Enerji on behalf of local football club Galatasaray S.K. has begun generating energy.
Enerjisa deployed GoodWe 120kW HT series inverters for the plant, which has an installed capacity of 4.2MW.
The new HT-series seamlessly incorporates different sets of technical strengths, with a view to achieving higher savings on installation, enhancing productivity and diversifying monitoring options. Safety is taken to the maximum level in accordance with the most demanding national standards. The utility scale inverter also introduces innovation and technological flexibility that make it highly compelling as a utility option. The result is a well-conceived, technologically advanced and asset owner-centric inverter that is also aesthetically pleasing.
Ersin Esentürk, Deputy Chairman of Enerjisa Customer Solutions, commented: "At Enerjisa, we continue to bring our technology and sustainability-oriented products to our customers under our umbrella tagline of "Energy of My Business". In this context, our priority is to contribute to our country, our customers and our environment. We are very happy to work with GoodWe as inverter supplier for this project, while entering into a significant collaboration with Galatasaray will have a very positive effect on the sector."
"The reliability and quality of our products is of primary importance for us. We are proud to be able to supply our high-quality solar system inverters to one of the leading energy solution providers in Turkey, further advancing the country's energy transition," added Ron Shen, VP International Sales & Services at GoodWe.