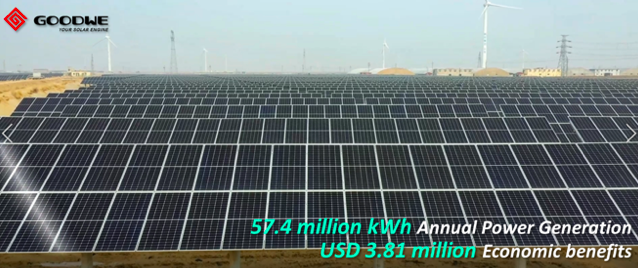 The plant is located near the Yellow River estuary, on 1200 acres of alkali land, and is equipped with GoodWe GW225kW-HT high power smart inverters with 1500V system design, 99% efficiency and high-power tracking density, backed up by up to 168 MPPTs for a 3.15MW PV array. The 30A max current per MPPT makes the inverters highly compatible with both 182mm and 210mm high-power bifacial modules.
The 40MW plant will generate 57.4 million kWh of electricity per year, representing a saving of USD 3.81 million and also eliminating over 15,000 tons of standard coal, reducing emissions of SO2, CO2 and dust by 90, 47 and 58 tons respectively. The local economy will also benefit, with traditional farming and fishing communities in the Yellow River Delta region enjoying access to cheaper and cleaner sources of energy and the project creating new job opportunities.
The GW225k-HT is the latest state-of-the-art, high-power, high-efficiency inverter in GoodWe's portfolio, enabling the company to further develop its already prominent role in the global transition towards renewables.