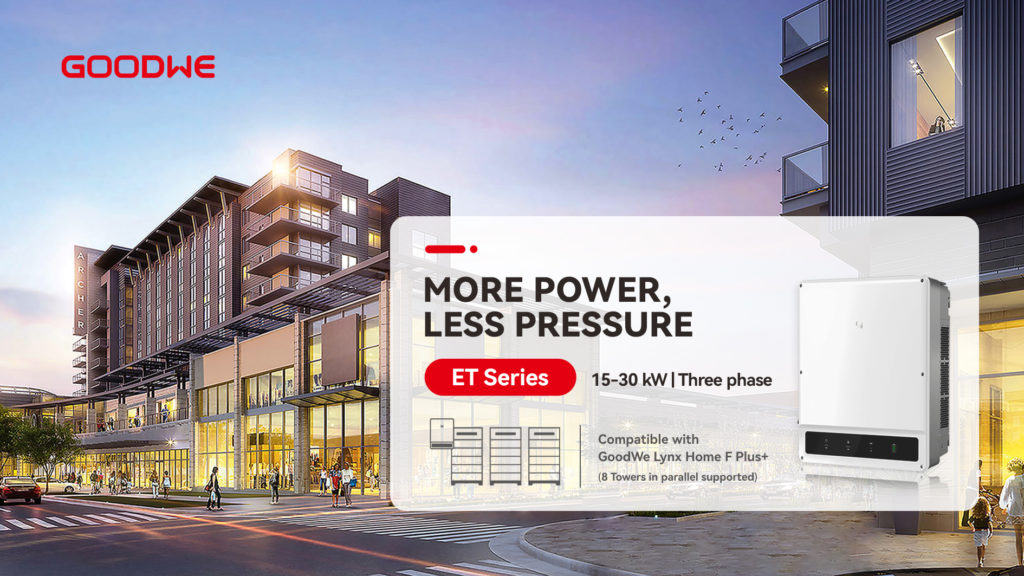 GoodWe has launched an innovative three-phase 15-30kW hybrid inverter, an addition to its ET series portfolio. Developed for large residential to small commercial and industrial rooftop applications, the high-voltage inverter facilitates powerful energy back-up and intelligent peak shaving and load management for optimised autonomy and reduced energy costs.
The new model allows for a DC input current of 15A for each string, matching with high-power solar modules, and also offers up to 150% DC input oversizing to maximize energy production and achieve high levels of self-consumption. The product is also characterized by its strong overloading capability in back-up mode, a feature enabling uninterrupted operation even when surge power demand exceeds the inverter's nominal power rating. Dry contacts in the inverter allow external loads, such as heat pumps, to be flexibly activated to optimize energy consumption. Safety standards for the inverter and PV system are ensured by Type II SPD on the DC side and an optional arc-fault circuit interrupter (AFCI).
The inverter can be combined with a range of battery capacities and brands, including GoodWe's own high-voltage Lynx Home F PLUS+ series battery. By adding up to eight identical battery sets connected in parallel, storage capacity can be expanded to 131kWh, thereby meeting demanding project requirements from self-consumption optimization to backup usage.
With the commercial energy storage system market set for significant growth, GoodWe is expanding its portfolio with comprehensive solutions to meet new customer demands. Upcoming product innovations include a 50–100kW hybrid inverter, an AC-coupled retrofit inverter and a compatible commercial battery system.