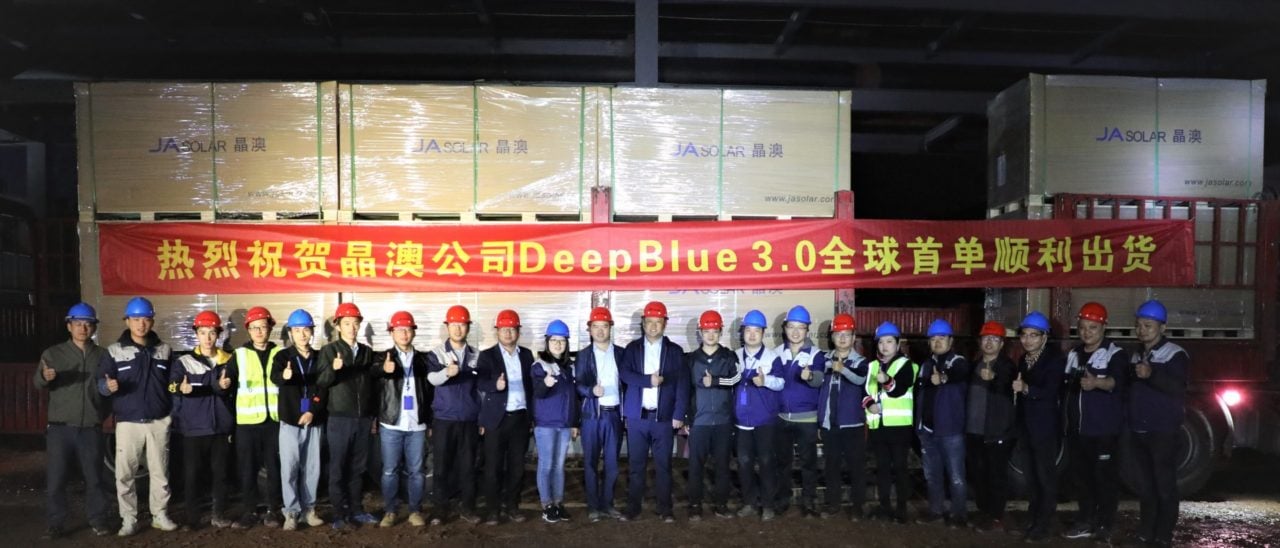 JA Solar has delivered the first shipment of its DeepBlue 3.0 modules from its manufacturing base in Yiwu, Zhejiang Province, China. This marks the beginning of the company's supply of the 182mm module to the global market.
Launched in May 2020, the DeepBlue 3.0 is a new product based on 182mm X 182mm wafers (also known as "182 modules"). It is one of the first 182 modules in mass production and has obtained certification by TUV, LVD and EMC. The product integrates the advantages of multiple high-efficiency and low-degradation technologies, including the new-generation PERC high-efficiency cell technology PERCIUM+, and Ga-doped silicon wafers, enabling the product to achieve great performance in reliability, conversion efficiency, and power generation. As it can effectively decrease LCOE by 7% – 9% (the number varies based on the location of different projects), the product is regarded as an excellent option to help achieve grid parity in 2021.
The first batch of DeepBlue 3.0 modules will be delivered to SEPCOIII Electric Power Construction Co., Ltd. (SEPCOIII), for its project construction site in Tongchuan, Shaanxi Province. As a wholly-owned Grade A subsidiary of the Power Construction Corporation of China, SEPCOIII is a major Chinese EPC contractor, and has become a professional electric power engineering company with the largest number of projects under construction and the strongest market competitiveness. It has extensive experience in domestic and international power station construction. Chu Yuming, General Manager of SEPCOIII PV Energy Company, said, "JA Solar is well-recognized in the solar industry for its superior products and services. Over the years, the two companies have established a strong relationship. JA Solar's new DeepBlue 3.0 product incorporates a number of industry-leading technologies, and we are confident in its performance. We look forward to JA Solar's launches of additional high-efficiency and high-quality products in the future, to promote the application of solar energy."
"We are honoured to work with SEPCOIII on the new DeepBlue 3.0 product," said Li Dong, Assistant President of JA Solar. With the ongoing development of the upstream and downstream industries, JA Solar has taken a comprehensive approach and evaluated the equipment and technology maturity of the whole industry chain to develop and roll out this new and exciting product. It can effectively reduce LCOE and enhance customer ROI. In the future, we will continue to focus on the research and development of products and technology enhancements, to provide customers with high-quality and high-efficiency solutions, promoting the application of photovoltaic technologies and helping grow the photovoltaic industry.
In addition to the first order from China, JA Solar has already received orders for DeepBlue 3.0 from both mature and emerging markets such as Europe and Southeast and Western Asia and will continue to ship products to facilitate the promotion and application of high-efficiency solutions across the globe.