JinkoSolar has become the first global player to ship 8GW of solar panels to India. The company now has a market share of 24% in the subcontinent, according to domestic research company JMK, consistently maintaining its position as market leader, with a record 2GW shipped in the first quarter of 2022 alone. A second well respected domestic research organization, Bridge to India, also placed Jinko in the No.1 spot in its Q1 report, both in terms of shipments (2039 MW) and commissioned capacity (893 MW).
Company VP Dany Qian commented: "Jinko's trajectory in India has been positive from the outset and we have consistently proven ourselves in this demanding market, both in terms of record shipment volumes and cutting-edge technology. Being the first global brand to achieve 8GW of module shipments to India is a significant milestone to go with our recent one of cumulatively exceeding 100GW globally."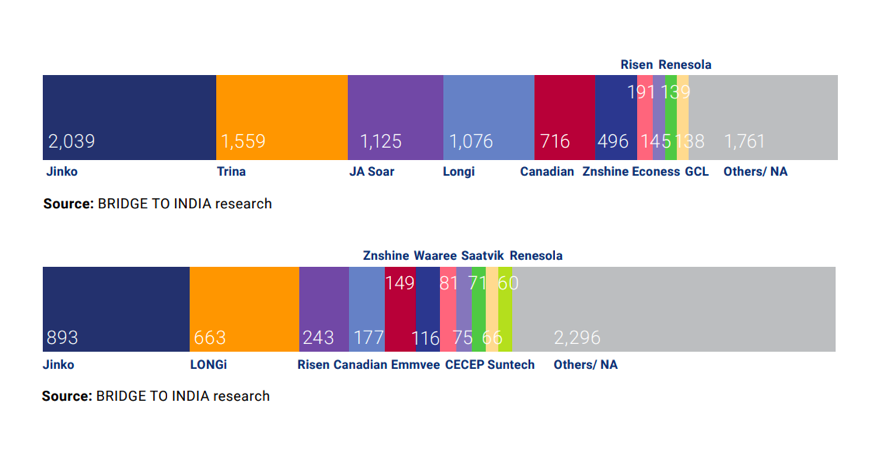 "The PV industry has faced a number of challenges recently, with rapidly increasing prices, supply chain issues and demand-supply gaps. I am proud to say that we, as a company, have been able to successfully navigate these issues and the past 2 quarters are a clear indication of how well we are positioned in the Indian market. Jinko shipped more than 3.5GW of panels to India just in Q4'21 and Q1'22 and this is a testament to the trust customers have in our brand,"added Daniel Liu, JinkoSolar GM for South & Central Asia.
Jinko has played an important role in transforming the Indian market from being price sensitive to technology sensitive, positioning itself as a leader in N-Type technology with TOPCon. The company's flagship product, Tiger Neo, has been launched globally and has broken all efficiency records, winning numerous awards both in India and further afield.