At present, current PERC and new TOPCon capacity are competing for limited photovoltaic installations. The future development rate of N-type cell technology will depend on cost and efficiency differences compared to PERC but, if N-type technology can continue to make breakthroughs in efficiency, cost reduction and yield control, its long-term market share is likely to exceed expectations. Against the backdrop of N-type technology developments, LAPLACE has launched TOPCon core equipment and solutions for the global photovoltaic industry.
Founded in Shenzhen, China in 2016, LAPLACE is an experienced production equipment and process solution provider for TOPCon and passivated contact cells, and was the first supplier in the industry to develop TOPCon test lines, mass production lines and equipment solutions with leading Chinese cell manufacturers.
The company's core products are currently focused on thermal processes such as diffusion, oxidation and annealing, on coating (PECVD, LPCVD and ALD) and on supporting automation equipment. Using patented technologies straddling both equipment and processes, LAPLACE provides turn-key solutions for TOPCon, IBC, TBC and other passivated contact solar cells, including key process equipment, automation, inline inspection and AGV systems, enabling integration with wafer tracking, MES, equipment maintenance management, process auto-tuning and troubleshooting platforms, enhancing production quality and reducing COO.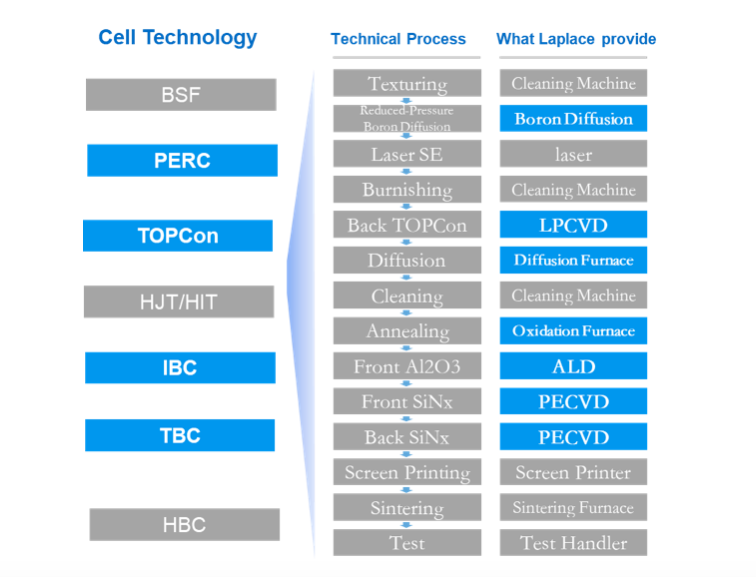 LAPLACE is the first company to have successfully introduced gaseous BCl3 to allow mass production of N-type solar cells, using advanced horizontal wafer placement suitable for ultra-thin silicon wafers, and was also the first to develop LPCVD with the highest loading capacity. The LAPLACE team has collaborated with customers to break world-record cell efficiencies at both lab and mass production scale since 2019, with the company also achieving a number of independent developments in key processes such as diffusion high temperature passivation. 2022 marks both the sixth year of the company's founding and its official entry onto the international market.
LAPLACE has already cooperated with manufacturers in Europe, South East Asia and India and will continue to export its advanced technologies to support the development of the photovoltaic industry.